Welcome to my first Monthly Movie Rant! (I'll try to make this a monthly thing, anyway–we'll see how it goes.)
I've been thinking about superhero movies lately. Specifically, I've been thinking about Batman movies. Mainly because I watched five of them last week. (Yes, I am aware that I have a problem.)
Batman is arguably the most enduringly popular superhero of all time, at least when it comes to us film fans. Sure, he hasn't been around quite as long as Superman (though it's very close), but he has, like, three times the number of good movies. And now that Marvel and DC have enough superhero films planned out to last my entire lifetime, I think it's time the other heroes started learning from the master. So, heroes, here's how you can be more like Batman:
1. Don't be so high and mighty and powerful.
Batman's only superpower is the ability to have a plan for all possible situations, and several impossible ones, at all times, which is really just a basic survival skill if you live in the DC universe. And I think that's a big part of his appeal. I believe a superhero's main job is wish fulfillment, and a hero without powers is perfect for that. Batman is rich, powerful, handsome, and has ninja skills. But there's nothing supernatural about him, which means, if you dream really big and come from a wealthy family, even YOU could be Batman! But seriously, who hasn't calculated the exact amount of money and training they would need in order to be Batman? That's part of his whole shtick even in-universe: "The Batman could be anyone." It also makes him more relatable. Here's a superhero who can't just fly away from his problems, even if he wanted to. He's more down-to-earth (both literally and figuratively) than your average man in tights. I believe it's possible for powered heroes to achieve this kind of dynamic–after all, even they have weaknesses–but the only other one I can think of who really comes close is Iron Man, and, well, he can still fly. Plus, Iron Man is a jerk.
2. Have a heart.
And Batman is not a jerk! This is, hands down, my favourite thing about him: in most portrayals (certainly all the best ones), Batman is a big softie underneath all that scary bat imagery. In Batman Begins, he takes time out of an important mission to cheer up a poor kid. In the Year One comic, which helped inspire that movie, he punches a corrupt cop through a wall, not because he had just tried to kill him, but because he shot at a cat. And he constantly hangs on to the belief that all the people in his wretched hive of a city can be redeemed, no matter how hopeless it gets. It's those little things that make a hero, in my mind. Lately a lot of heroes are always fighting such big battles, or are so busy battling each other, that we lose touch with what made them heroic in the first place. We've got enough movies about superheroes stopping alien invasions and what-not. I want more heroes who cheer up little kids.
(No, I didn't like Batman vs. Superman – why do you ask?)
3. Find better villains.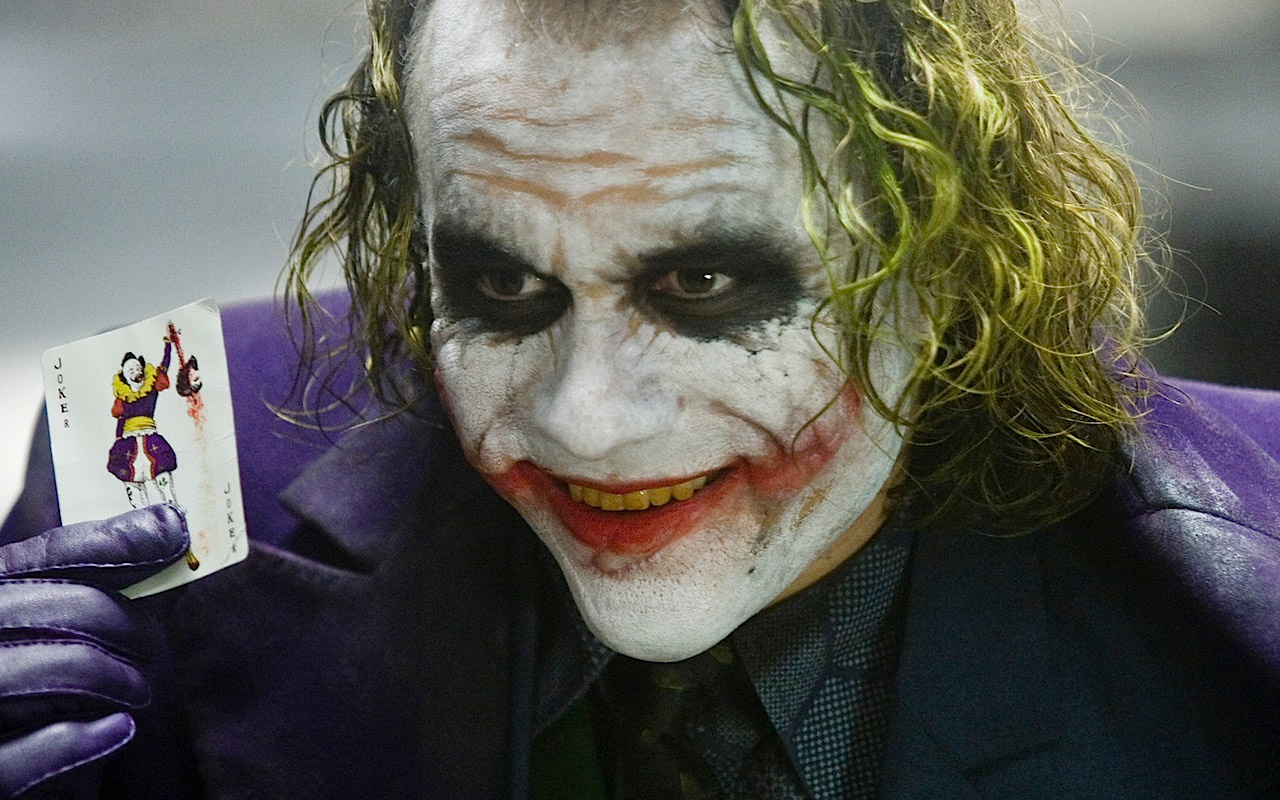 As awesome as Batman is, he would never have come this far without his rogues gallery, particularly the Joker. But even ignoring those guys, consider who Batman fights in between encounters with mutated freaks: regular, run-of-the-mill gangsters and crooked police. In other words, exactly the kind of villains we have in the real world. This ties back to the wish-fulfillment thing. For me, the most effective heroes are the ones who deal with semi-realistic problems. It can be very nice to imagine a powerful guy in a cape swooping in to bring child abusers and bribe-takers to justice, because justice sure ain't happening in real life. And the Joker, in his own way, feels even more real. He's not just some random evil guy. He's the embodiment of evil, especially the kind of mindless, chaotic evil that's becoming terrifyingly common in the age of terrorism and school shootings. And in a Batman movie, you can watch somebody beat him. I would argue that the reason Marvel has yet to produce a compelling villain in their movies (the Netflix shows are, admittedly, a different story) is because they insist on having the heroes fight gods and mad scientists who bear no resemblance to regular, everyday evil. I mean, would it kill the Avengers to take a day off from the space battles and beat up some drug dealers? Daredevil could sure use the help!
4. Find better directors.
Batman has appeared in countless excellent stories, across all forms of media, but I'd be lying if I said my obsession with him isn't Christopher Nolan's fault. And is that so surprising? Nolan is easily the most respected director who has made a superhero film, at least in my lifetime. Okay, Joss Whedon was already famous–for cult TV shows. Zack Snyder was kinda famous–for a long string of comic book movies that all looked exactly the same and featured naked people as their primary selling point. But Nolan has yet to make a movie that isn't highly artistic, philosophical, and critically acclaimed. That's the kind of director you want for a superhero movie, because when you come right down to it, a good superhero movie is good for the same reasons as any other movie: well-rounded and likable characters, tight editing, a coherent story, and cool visuals. Hollywood clearly has the money to spend on A-list actors for their comic book movies; why not hire A-list directors as well?
5. Do your own thing.
Part of the reason Batman became so popular in the first place was because he was so unique. Superheroes in general were pretty new back then, and the Bat's darker world and more pragmatic crime-fighting style provided a nice contrast to Superman and his ilk. In these post-Nolan days, a lot of superheroes have tried to copy Batman, but they do it in the wrong ways. Marvel looked at the Dark Knight saga and thought, "Hey, evil laughs and motiveless villains really DO work!" DC looked at them and thought, "These movies are really dark. Audiences must like dark superheroes." And then they hired Zack Snyder and put a ban on jokes and bright colours for all future movies. People didn't like Nolan's Batman trilogy (or any other Batman fare) because it was dark. They liked those movies because they were good movies. Other heroes, you can find your own ways to be great! Just follow the general advice above and put your own spin on it. Some of you are already trying. Keep it up, and one day you may step out from Batman's shadow, just like Nightwing did.
Speaking of which, can anyone give me a good reason why there isn't a live-action Nightwing movie in the works? I would watch that until my eyes bled.