Holy awesomeness, Batman!
If you've been reading this blog for any time at all,  you know I love all things related to the Dark Knight. So it may come as a surprise that, until recently, I had never watched Batman: The Animated Series, which is considered by many to be the definitive portrayal of the character (outside the comics, at least). It was just a matter of being born too late, I guess. I wasn't even old enough for Sesame Street when this show first aired, and by the time I started caring about superheroes, I thought I had outgrown cartoons in general. (Yeah…there was a time in my life when I actually thought I was mature and dignified. Fortunately, it was just a phase.)
So it wasn't until recently that I finally decided to track down this 25-year-old cartoon series and see what all the fuss was about. I was not disappointed.
For those who haven't seen it (I know you exist!), the show's premise is pretty self-explanatory. It's four seasons of self-contained episodes about Batman fighting the villain of the week and occasionally teaming up with Robin, Batgirl or another sidekick. No complicated story arcs, just a simple, kid-friendly show. And it's the most consistently intelligent, fun and all-around awesome superhero show I've ever seen. Why do I love it so much? Let me count the ways:
The intro. From the minute the WB symbol turned into a pair of headlamps from a police zeppelin (I love that Gotham has police zeppelins, by the way), I knew I was in for something special. The grand, sweeping music and the dark, noir-style animation establish the show's atmosphere perfectly. And the image of Batman standing on a skyscraper with lightning flashing behind him is just so iconic. It's everything you need to know about him packed into a few seconds.
The music. Did I mention that yet? This is one of the few cartoons ever to get a fully-orchestrated soundtrack, and it makes me wonder how modern cartoons can stand to settle for less. Here, the music makes everything seem so much bigger than you expect on your average kids' show. It always hits the right emotions, making the villains creepier, the action more urgent, and Batman more triumphantly awesome. Apologies to Hans Zimmer, but there's just no music that captures the essence of Batman better than that soaring brass anthem. And there's one more thing that makes this soundtrack special: unlike 99 percent of all mainstream movie and TV scores, it was primarily composed by a woman. I'm adding Shirley Walker to my list of inspiring female artists.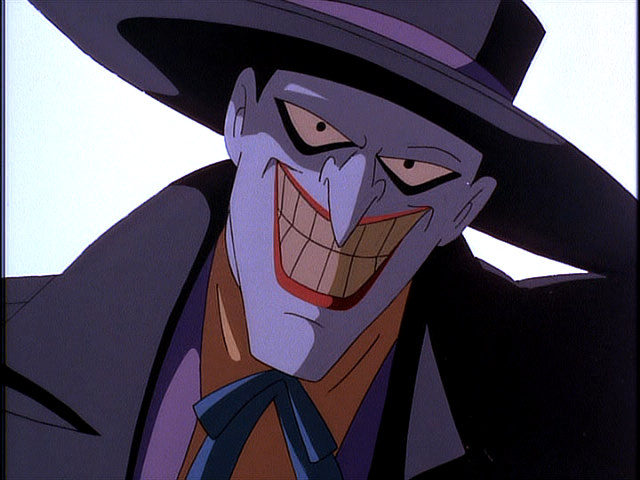 The voice acting. Obviously, I'm mainly talking about Kevin Conroy and Mark Hamill here. But really, all the acting is top-notch in this show. The only recurring voice that I didn't love was the first Robin–he seemed a little too whiny to me. But even he got better by the end of the series (because NIGHTWING!) and everyone else, even minor one-off characters, seemed perfect. But Conroy and Hamill stand out because they manage to take two characters (Batman and the Joker, respectively) that have been interpreted and re-interpreted hundreds of times, and own them so thoroughly that even someone who was raised on the Nolan movies like me can still look at a comic and automatically read it in their voices. I like all the live-action Batmen I've seen, but I didn't understand how truly, terrifyingly awesome the character could be until I watched the episode "Nothing to Fear" and heard the immortal line, "I am vengeance. I am the night! I am Batman!" for the first time. I don't think anyone else could make that line send chills down my spine the way Conroy did. And as for Mark Hamill's Joker…well, let's just say not many actors can be genuinely hilarious and genuinely scary at the exact same time. Mark Hamill can.
The tragedy. Here's what really sets this show apart from other superhero works, and even other DC cartoons (which are all excellent, by the way). A lot of writers seem to focus almost exclusively on Batman's hunger for justice and desire to punish wrongdoers. That's certainly an important part of his character, but B:TAS focuses on what I think is an even more important part: his desire to save people. And when I say "people," I mean everyone who's in danger in his city, including the villains. That's where the tragedy comes in. Keep in mind that this is a show where no one ever dies–at least not on screen. The bad guys' evil plans always fail, good always prevails, and everything stays PG along the way. But it still manages to create some of the most heartbreaking stories I've ever see on TV, and it's largely thanks to the villains. With the exception of the Joker, almost every recurring villain on this show will make you feel sorry for them at some point. Most of them start out relatively normal and are driven to do terrible things by a combination of mental illness and traumatic circumstances. And Batman often goes out of his way, not only to avoid killing them, but to try and help them heal from whatever it was that turned them into monsters. After all, he's pretty messed up in the head too, so he understands where a lot of Gotham's costumed criminals are coming from. But while he may be able to save the innocent citizens of Gotham from the villains, he's never able to save the villains from themselves. And it's very clear that he finds it difficult to forgive himself for that. If you've ever had a loved one who struggled with mental illness, or just went down a wrong path in life, there are some episodes in this show that will feel like a punch to the gut.
Don't get me wrong–there are plenty of funny, light-hearted episodes, along with some truly heartwarming moments. But for some reason, I admire a kids' show more for making me teary than for making me laugh. Maybe just because it's rarer. And the intelligent, understated way this show approaches such heavy subject matter as grief, mental illness and domestic abuse is a step beyond anything I've ever seen in a kids' show. Or most adult shows, for that matter. It keeps things child-friendly, but never becomes childish. Like all great kids' entertainment, it can be enjoyed by people of all ages, at the same time, for different reasons.
Of course, it has the occasional dud episode. And I'm not a huge fan of the different animation style in the fourth season. But for the most part, B:TAS is everything I've ever wanted from a Batman story and more. And it even has a movie! Batman: Mask of the Phantasm, which is just as well-made as the show (actually more so, since it had a bigger budget), but is a little more consciously aimed at adults. Then there's the spinoff shows, the crossovers, etc…Point is, everything about this series is fantastic and wonderful, and I just wish I had watched it sooner.
Grade: A+
P.S. Here are my very favourite episodes, for the curious:
Nothing to Fear (only because of that one Batman line)
Heart of Ice
Joker's Favor
Appointment in Crime Alley
Perchance to Dream
Almost Got 'Im
The Man Who Killed Batman
Baby-Doll (this is my number one favourite, but we're going in chronological order here)
Harley's Holiday
Never Fear
Legends of the Dark Knight
Mad Love