Today is a happy day, my friends. It is a day that shall live on in history.
We finally have a good female superhero movie.
Wonder Woman
Director: Patty Jenkins
Writer: Allan Heinberg
Starring: Gal Gadot, Chris Pine
Rated PG-13
Diana is a princess of the Amazons, a race of warrior women created by the Greek gods to protect the world from evil. She's grown up on the island of Themyscira, which is magically hidden from the rest of the world, and has trained since she was a little girl to be the greatest warrior her civilisation has ever known. She gets her first chance to really use those skills when a man comes to Themyscira: Steve Trevor, a World War I pilot who crash-lands near the island and accidentally brings a bunch of angry Germans after him. When Diana finds out that the entire "world of men" is at war, she believes only one person could be responsible: Ares, the god of war, sworn enemy of the Amazons. But the rest of her people refuse to help, leading our hero to steal some special weapons (including a sword aptly called the Godkiller) and run away with Steve to try and save the world. Tank-flipping and lasso-throwing ensue.
Wonder Woman is not the best superhero movie ever made. In fact, this has been such a great year for movies that it's not even the best superhero movie of 2017 (that would be Logan). But it's special. I drove for an hour to get to the earliest possible showing, just because I wanted to be there when the most famous superheroine of all time finally got the movie she deserved. I'm a woman, and I love superheroes. I can relate to male heroes when they're written and acted well, but when all the cool ones are male, it starts to feel like Hollywood writers think fans like me don't exist. Either that or they think it would be totally implausible for a woman to be a cool hero capable of carrying her own story, and that's even worse.
And even with all the good early reviews, I was still a little bit nervous about this movie. There are so many ways Wonder Woman could go wrong on the big screen, and with the DCEU's track record so far, I didn't have a whole lot of faith they could do her justice. But they did! This movie is everything I could possibly have hoped for, in a female superhero movie, in a Wonder Woman movie specifically, and in a DC movie. I loved it!
But before I gush any further, I will admit that Wonder Woman has some flaws. The biggest one, for me, was the overuse of slow motion. It's not as bad as it was in the Snyder-directed movies, but it does get to be a bit much during most of the battle scenes. Slow motion is kind of a pet peeve of mine, because unless it's done exceptionally well, it usually just makes a scene cheesier than it needs to be. Also, as is so often the case with superhero movies these days, the villain in this one is a bit weak. His motivations are vague, and he doesn't really get much of a personality. He's played by a good actor who does his best to sell the part, but it's still pretty forgettable.
Also, the movie does take some liberties with Wonder Woman's origin story, the biggest of which is that she enters "man's world" during the first world war instead of the second. I kind of wish the writers had kept to the original time period, if only because punching Nazis is the greatest and most time-honoured of superhero traditions. But since the villain is the god of war, I guess it does make sense that he would be around for the War to End All Wars, which ended up sparking most of the major conflicts of the 20th century. And finally, I don't think the "bookend" scenes at the beginning and end of the film, showing Diana in modern-day Paris, were strictly necessary. But maybe that's just because I don't appreciate being reminded that this movie takes place in the same universe as Broodingface vs. Sulkypants.
Now, on to the good stuff! Without a doubt, this movie's greatest strength is Wonder Woman herself. Gal Gadot absolutely nails the role, bringing an infectious joy to the character alongside tons of physical confidence. There is no moral ambiguity about Diana. She's a kind, compassionate, brave hero who wants to make the world a better place. Her weakness is that she's a little too optimistic, wanting to believe that all people are good and would never harm each other unless they were under the influence of an evil god. Naturally, the horrors of World War I prove to be more than a little disillusioning for her, and she ultimately has to decide whether she still wants to fight for humanity, despite all our faults, or just give up on the species altogether. But along the way, we get a bunch of endearing scenes that just show her falling in love with the world: seeing a baby for the first time, or getting introduced to things like snow and ice cream. Her unfamiliarity with the social norms of the 1910s also lead to a lot of comical moments, and, shock of all shocks for a live-action DC character, she actually has a sense of humour herself! She's a three-dimensional character with a compelling arc, and my word, is she incredible in a fight. I could spend hours just watching the scene where she walks across No Man's Land in full Wonder Woman attire, deflecting machine gun fire off her bracelets. I think I actually let out an audible squee during that scene.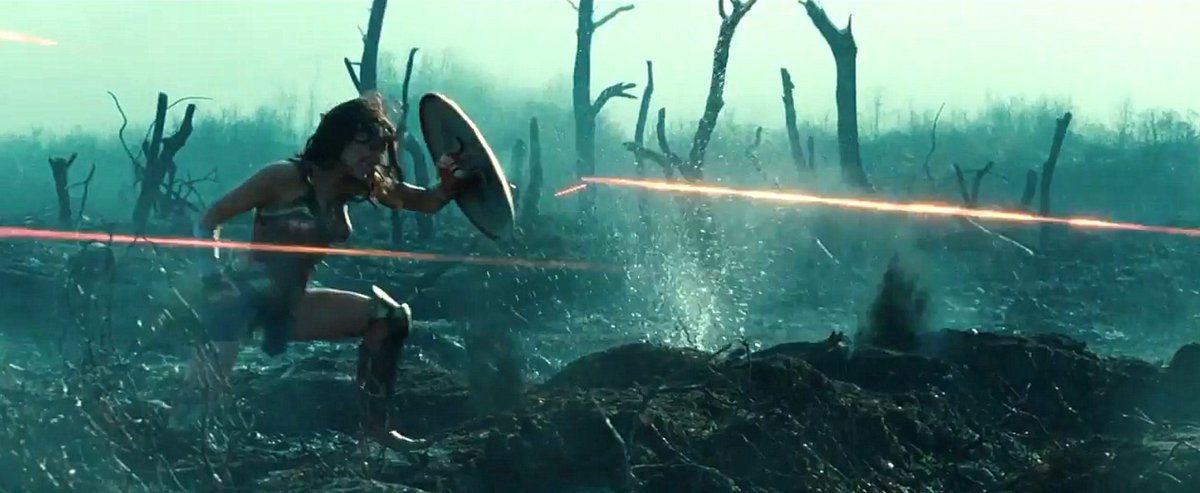 But Diana isn't the only great character on display. Steve Trevor is also a lot of fun to watch, as per usual for a Chris Pine character. He, of course, falls love with Wonder Woman over the course of the movie, and their relationship develops in a very natural, believable way, as each of them is shown learning from and inspiring the other. You know, like how a relationship should be. And Steve is every inch the hero his girlfriend is, just without the tank-flipping ability. It would have been easy to make Wonder Woman look good by making Steve weak or "un-masculine" in some way, as has been done so many times in movies about tough action girls. But this movie doesn't go that route, instead portraying both of them as brave, capable heroes with different strengths and weaknesses. Which, again, is the way it should be! 
They're joined by lots of colourful side characters, from Steve's British secretary, Etta Candy, to the ragtag bunch of multicultural soldiers and ex-soldiers he's friends with. They're all mostly there for comic relief, but most of them get some good character moments as well. Also…a heroic soldier named Steve, played by a guy named Chris, who leads a band of misfit soldiers during a world war, dates a tough brunette, and crashes a plane into the ocean? This movie is like the alternate universe version of Captain America: First Avenger!
Anyway, leaving aside the fact that it's about a woman for once, this is simply a great superhero movie. It has awesome fight scenes (apart from the slo-mo), plenty of humour, a dash of ridiculousness, and, most importantly, a hero who is unafraid and unashamed to fight for truth, justice, and human decency. It respects the hero's roots (even throwing in some nods to specific comic book storylines), but takes her in slightly different directions when it suits the story. It doesn't try too hard to be "gritty" or "realistic," but instead just gives us good characters so that we become emotionally invested in their journey. Oh, and Wonder Woman's theme music remains among the coolest I've ever heard in a superhero movie.
Wonder Woman also leaves us with an important message: No one person can solve all the world's problems, even if that person has superpowers. But everyone, superpowers or not, can choose to do good. And that choice is always worthwhile.
All that to say, superhero movies are no longer a "man's world," and I could not be happier, either as a woman or a superhero fan. And as a DC fan, well…this movie actually gives me some hope for the rest of the Justice League movies. All may not be lost for my favourite super-team.
May Wonder Woman be a sign of things to come.
Grade: A for Amazon