"So you didn't get your 'happily ever after?'"
"No…but that's life. Most people just get 'messily ever after.'"
A Monster Calls
Director: J.A. Bayona
Writer: Patrick Ness
Based on the book by: Siobhan Dowd and Patrick Ness
Starring: Lewis MacDougall, Liam Neeson, Felicity Jones, Sigourney Weaver
Released: 2016
Rated PG-13
Conor, a little boy in England, is not having a happy childhood. His single mother is dying of a disease heavily implied to be cancer, and his grouchy grandmother is trying to get him to come live with her as a result. To make matters worse, he's getting beaten up regularly at school, he has no friends, and he keeps having the same nightmare over and over. But one night, at precisely 12:07 a.m., he is visited by a monster made from an ancient yew tree. The Monster says he will tell Conor three stories, and after that, Conor must tell him a fourth: the story of his nightmare. Sure enough, as his mother's illness gets worse, the Monster keeps visiting at 12:07 to tell Conor stories about the times he went walking before, and what he knows about life and the people who live it. Meanwhile, Conor just hopes the last story will end with his mother being cured.
Like all the Monster's stories, this movie looks and acts a lot like a fairytale at first glance. The titular creature looks amazing, and his stories are animated with lovely watercolours that look like they came straight out of an illustrated fantasy book. The movie's beginning, what with the sick mother and the Monster suddenly appearing in a surreal fashion, even reminded me of a Narnia story. (The fact that Liam Neeson voices the Monster helps.)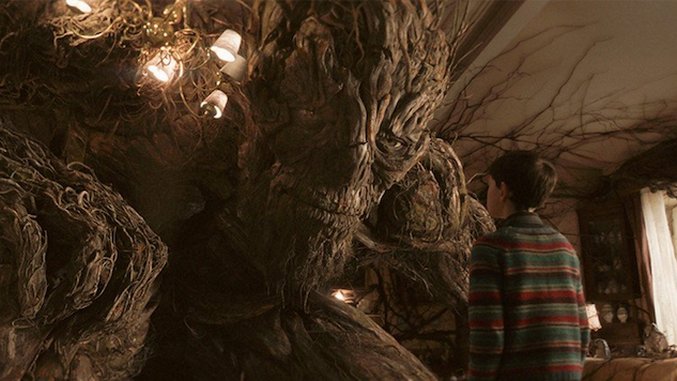 But the Monster's stories are not fairytales. Each one twists the usual character types and morals of a fairytale (such as evil queens and knights in shining armour) and subverts them in order to tell a harder truth: that real people don't fit into those little boxes. Sometimes the evil queen has her good points, and sometimes the knight in shining armour is less noble than he seems. "There isn't always a good guy, nor is there always a bad one," the Monster says. Another story examines a man who was willing to give up everything he believed in order to gain a favour, thus proving he never had true faith in the first place. You know…basic picture book morals like that.
But that's how this movie rolls. It's a story about a boy coming to grips with the loss of a loved one, but more than that, it's about the importance of facing the truth. The lesson Conor really needs to learn is that he must admit the truth about his feelings, especially towards those he loves, if he's going to be able to survive tragedy. In keeping with that message, the movie itself is consistently honest. It doesn't try to sugarcoat the awfulness of watching a loved one die, and it doesn't take the easy approach to characterisation. There are no villains in this movie. Conor's grandmother might be fussy, and she certainly doesn't understand him, but she loves both him and his mother deeply. His dad (who lives in America with a new family after a divorce with his mother) might be a bit of a deadbeat, but it's clear he's trying to be a good father in his own way. Conor himself, despite being the protagonist, is very flawed and does some terrible things over the course of the movie…but given the kind of story we've got here, that often just makes it even easier to sympathise with him. Even the Monster, despite giving out lots of sage advice, is still, well, a monster. He delights in destruction and he can be rather menacing at times.
The movie has an all-star cast (one of several reasons it baffles me that it didn't get more attention when it came out last year), and everybody is bringing their "A" game. Liam Neeson has one of those voices I could listen to forever, and he puts it to great use here. Felicity Jones, of Rogue One fame, gives a horribly tear-jerking performance as Conor's mum. It's a little weird to watch Sigourney Weaver  being a British grandmother, but then maybe I've just seen Aliens too many times. She does a good job, even getting the accent right for the most part. But Lewis MacDougall really carries the movie, showing a ton of emotional depth and nuance in his acting. Impressive, considering he was about 13 when it was filmed, and this is only his second movie.
I don't cry easily during movies…or at all, for that matter. Sure, occasionally a real tear-jerker will make my eyes go a bit misty, but until this week, the only movie that had caused me to actually break down crying was Inside Out–and that was because it gave me flashbacks to a particularly difficult time in my life. I was crying like a baby by the end of A Monster Calls. It is, hands down, the most thorough exploration of grief and loss I've ever seen in a movie, and it got downright hard to watch at times. I think that's why it got rated PG-13, despite not containing any harsh language, sexual content, or graphic violence. This is definitely not a movie you watch with your kids, unless you want to have some very serious discussions with them afterwards. But its sadness is cathartic. It made me, as a viewer, feel that I had been on a journey with Conor and understood a bit of what he was feeling. Sometimes it's easier for me to empathise with unpleasant feelings when they're presented in the form of fiction, and this movie did that for me.
And I think that is the entire point. Early on in the movie, Conor watches the original King Kong with his mother, and he feels sorry for the titular monster. He asks why the soldiers are trying to shoot Kong down. "People are afraid of what they don't understand," his mother explains. Understanding is another major theme of this movie. People avoid or even bully Conor because they don't understand what he's going through, while he does the same to the relatives he doesn't like. But by the end, he realises that everyone is fighting their own kind of battle, and he begins to understand why some of the people around him react the way they do. That's the thing about grief: it can divide, but it can also unite people. Everyone dies, after all, and almost everyone has lost loved ones. It's the one terrible thing we all have in common.
My only real problem with the movie is that I would have liked to see more of the Monster's stories reflected in Conor's life. I haven't read the book this is based on (though now I want to), but I have a feeling a lot of things were left out in the adaptation. For example, the Monster's third story is really just a few sentences that don't get animated at all, and although subsequent events show what the intended lesson was, it's not dwelt on as much as the others. I also would have liked to see the bullies in the movie humanised a bit more, like other characters are. It would seem to be in keeping with the story's themes.
But overall, this is a beautiful, thought-provoking movie with an unusual message: that life, love, and loss are all complicated things, and it's okay to have complicated feelings about them sometimes. It advocates honesty and understanding between people who are suffering. It shows that everyone has both good and bad inside them, and shouldn't necessarily be judged by just one or the other. They're all things we need to know in order to live full adult lives, but are rarely expressed so clearly in movies.
I'd highly recommend seeing A Monster Calls if you get a chance. Just keep the tissues handy.
Grade: A