There comes a time when every spider-boy must become a Spider-Man.
Spider-Man: Homecoming
Director: Jon Watts
Writers: Jon Watts, Jonathan Goldstein, John Francis Daley, Christopher Ford, Chris McKenna and Erik Sommers 
Soundtrack composer: Michael Giacchino
Stars: Tom Holland, Michael Keaton, etc.
Released: July 7
Rated PG-13
The movie starts immediately after the events of Captain America: Civil War. Peter Parker is extremely excited about meeting the Avengers and fighting alongside some of them, and considering Tony Stark specifically sought him out for the job, he assumes this is going to become a regular thing. But after two months, nobody has called him back for another mission, or even an Avengers costume party. So he goes on with his life: going to school, hanging out with his best friend Ned Leeds, and swinging around New York City in his new high-tech suit, attempting to stop crime as the "friendly neighborhood Spider-Man." When he runs into a gang of thieves who have gotten their hands on alien tech, Stark tells him to let the experts handle it. But Peter has a little bit of teenage rebellion going on, and staying away from dangerous criminals isn't really his style.
Like I said in my Civil War review, I thought Spider-Man was one of the most enjoyable things about that movie. But I was still a little wary about his solo outing, and not just because I spent a good nine months being bombarded with over-long trailers for it. (I don't need to see half the movie beforehand in order to get excited for it, thank you very much!)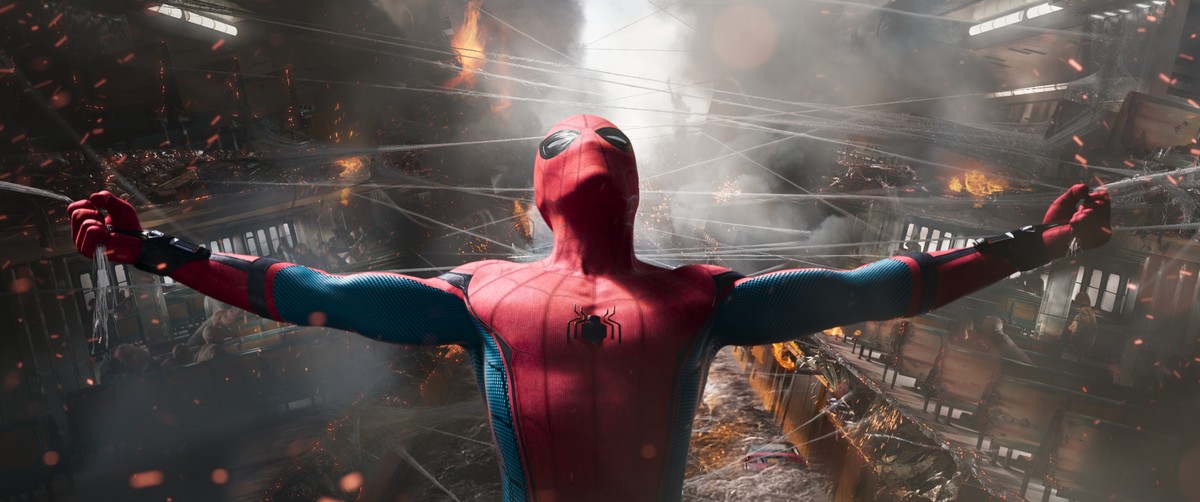 I'm a huge fan of the original Sam Raimi movies. Yes, all three of them. They were my first introduction, not just to Spider-Man as a character, but to superhero movies in general. So they have a huge nostalgia value to me, but they're also just incredibly fun movies. To this day, I still haven't seen many action scenes that can top the train fight in Spider-Man 2, and supervillains don't get much better than Willem Dafoe as Green Goblin and Alfred Molina as Doc Ock. Also, J.K. Simmons is the only person who should ever be allowed to play J. Jonah Jameson. Even though Andrew Garfield arguably gave a better performance as the title character than his predecessor, I couldn't stand the Amazing Spider-Man movies because they felt like unnecessary and inferior re-tellings of a story I already liked. So as we approached yet another re-boot, I tried not to get my hopes up too much, despite my usual love for the MCU.
My fears were (mostly) unfounded. This movie brings as much fun, humour, and excitement to its storytelling as I've come to expect from Marvel. And at no point does it feel like yet another re-telling of the story Raimi told so well 15 years ago. This movie wisely continues to assume that audiences already know all about Spider-Man's origin story, so apart from a brief reference to the spider bite and some subtle hints that Aunt May is still mourning Uncle Ben, it doesn't come up. Instead, we get to know this version of Peter Parker after he's already decided to be a hero, and the story focuses on his journey to becoming a good one.
Because at first, he is reeaaallly bad at being Spider-Man. Turns out it takes more than superpowers and a high-tech suit to effectively defend New York City. It also helps to be able to tell when someone is stealing a car (as opposed to just getting into their own) and to know how to avoid unnecessary property damage. Spider-Man sure causes a lot of destruction for someone whose hero and mentor signed the Sokovia Accords to prevent that sort of thing. In fact, most of the big problems that arise throughout the movie are, directly or indirectly, his fault. Then again, he is only 15, and despite his inexperience, his heart is definitely in the right place. Over the course of the movie, he learns how to be a better fighter, even without the Stark gadgets, and finds a purpose for his powers beyond trying to prove he's a grown-up Avenger.
Basically, this is your typical high school coming-of-age story…except it's about Spider-Man. While there are plenty of action scenes, a good chunk of the movie is about Peter dealing with normal high school problems, like trying to win a big trivia competition or asking his crush out to the homecoming dance. Although high school movies aren't normally my cup of tea, that aspect of the movie was actually my favourite. It allows us to see more of what life is like for normal people in the insane Marvel universe, and provides some great laughs along the way. For example, Peter's school shows educational videos narrated by Captain America (apparently Cap even filmed a PSA about puberty, which is AMAZING). Peter's friend Ned is also an excellent source of comic relief.
Before I get into my problems with the movie, I have to talk about the villain, Adrian Toomes, or Vulture. He's the best MCU movie villain yet. That's partly thanks to Michael Keaton's excellent performance, and partly thanks to a very effective surprise twist concerning his character late in the movie, but it's mostly because, out of all the villains in the franchise so far, Vulture is the most…human. He's just a regular blue-collar worker who turned to dealing in illegal high-tech weaponry to provide a better life for his family, and he only goes after Spidey when he gets in the way. It's such a refreshing change of pace from the usual "Let's destroy the world because muahaha!" motivation of Marvel villains. This is the second decent villain they've had in a row, though, so maybe it's a sign of permanent change.
Looking at this movie strictly on its own merits and in terms of its place in the MCU, there's not a lot wrong with it. I could complain about the blatant product placement, or about how weird it is to see Spidey using high-tech gadgets and an AI, but those were minor issues that didn't really detract from my enjoyment of the film. It's a fun, breezy adventure with good actors, decent action, and a clever, funny script.
But that's all it is.
This movie is so much better than the Amazing Spider-Man movies that I'm hopeful it may cause them to fade out of public memory entirely. It has fewer problems than Spider-Man 3 had, by a long way. But in my opinion, it still falls short of the standards set by the Raimi trilogy as a whole. Spider-Man and Spider-Man 2 may have had flaws, but they also had high moral stakes and a compelling arc for the hero. That version of Peter Parker had a motto–"With great power comes great responsibility"–and the whole trilogy, even the much-maligned third movie, was about his struggle to live up to that motto, despite various temptations to abuse his power or ignore his responsibility. Like all post-Raimi Spider-Man movies, Homecoming studiously avoids the "great responsibility" line for reasons that are unclear to me. And I miss it. This version of Peter Parker never wavers from his heroic intentions, which is great, but it also means his internal conflict is limited to trying to prove he's a "grown-up" hero to Tony Stark, which is a comparatively weaker arc. The movie also misses an opportunity to show real consequences resulting from his inexperience (conveniently, no one we care about is ever hurt because of his mistakes) and have him learn a lesson about, well, responsibility. I was left wishing for more.
Not every Spider-Man movie has to be an iconic superhero classic, though, and this movie isn't trying to be one. It's simply a light-hearted high school story with superheroes, and if that's all you're expecting when you walk into the theatre, you'll probably be satisfied. Despite my nit-picking, I laughed my head off at all the jokes (especially the Captain America PSAs), and I still think Tom Holland makes a fantastic Spider-Man.
Oh, and the final stinger is totally worth waiting through the end credits. Your patience will be rewarded.
Grade: A-