I'm in a zombie mood again!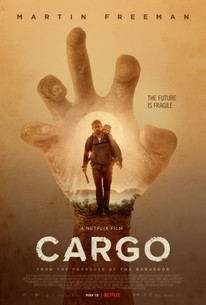 Cargo
Directors: Ben Howling and Yolanda Ramke
Writer: Yolanda Ramke
Starring: Martin Freeman
Music By: Daniel Rankine (I think…the internet is unclear)
TV-MA (for swearing and zombie-related grossness)
Andy, his wife Kay, and their baby daughter Rosie are waiting out the Australian zombie apocalypse on a houseboat in the middle of a river. Since a sensible set-up like that obviously can't last in a zombie movie, the undead catch up with them, Kay gets killed and Andy gets bitten. Alone in the outback, with about 48 hours of humanity left, Andy has to find a way to get his daughter to safety before he becomes a mindless, munching monster.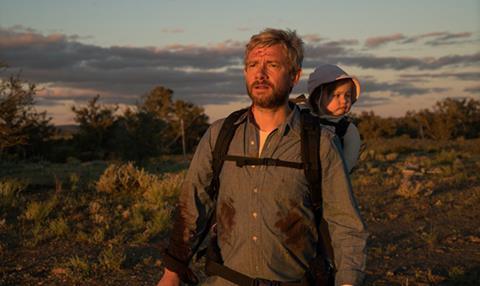 This movie is based on an excellent 7-minute Australian film with the same name and the same writer/director duo. When I stumbled across it on YouTube a few years ago, I loved it because it was such a short, sweet story, and packed such a big emotional punch. (I'd still highly recommend it–you can watch it here.) So when I found out it was going to be a Netflix movie, I was torn between excitement and pessimism. On the one hand, the short was so good that I was sure its creators had it in them to make a good feature film. And Martin Freeman starring in a movie is always a good sign. On the other hand, much of the short's impact comes from its simplicity, and I wasn't sure how well it would work to expand it to two hours. Not to mention that the term "straight to Netflix" is starting to take on the same connotations as "straight to DVD" when it comes to movies.
And yes, this movie does sometimes feel as slow-moving as its zombies. There's very little action and quite a lot of walking and talking. But the writer and director clearly worked hard to expand on their original concept. For one thing, in the full-length version, Andy is joined on his journey by an Aboriginal girl named Thoomi, a clever survivor who's still having trouble accepting that there's no cure for her zombified loved ones. The movie also adds a human antagonist in the form of Vic, a greedy miner who sees the apocalypse as just another business opportunity.
Part of the fun of any zombie movie is seeing how it portrays its living dead–because generally speaking, no two zombie movies are alike in that regard. Cargo adds some inventive twists to the monsters: hibernating zombies that have to stay in the dark, "diggers" that bury their heads in the ground while waiting for prey, etc. The transformation process is also a bit different–and a bit more gross–than usual. This movie's zombies don't come across as living corpses so much as really, really sick people, complete with a disgusting sap-like discharge from their eyes and mouths. That being said, the movie has a pretty tasteful approach to its gore. Most deaths happen off-screen, and the focus is always on the tragedy of the death rather than the blood-and-guts.
And personally, while I don't mind fast zombies necessarily, I tend to prefer monsters that take longer to transform, partly because it allows for dramatic scenarios like the one in this movie.
The original short was a simple story of fatherly love. This movie keeps that theme, but it also adds several more layers of character development for its protagonist. For one thing, the full-length movie shows the disaster that kicks off the plot is largely Andy's fault, adding a desire for atonement to his motivations for the rest of the film. It also throws some tough ethical dilemmas his way as he searches for a suitable home for his daughter. Turns out that, after an apocalypse, your options for an adoptive family are limited, and Andy often finds himself having to choose between leaving Rosie with people who are good at surviving or with people who are…well, good.
His relationship with Thoomi is another welcome change to the story. They meet under bad circumstances and don't really get along at first. Like a lot of Aboriginal people, she has no reason to trust a white guy, and he doesn't understand her way of doing things. But as their situation forces them to rely on each other more and more, they develop a rather sweet friendship. The movie becomes, not just a story about fatherly love, but also one of reconciliation and understanding between people from very different cultures. Which is also very sweet.
The problems I have with this movie are fairly small. Characters make some pretty stupid decisions, especially towards the beginning, and a lot of problems even later on could have been avoided if people would just come out and say what they were thinking. Some of these mistakes are understandable, especially coming from a character like Andy, who's not used to surviving in the outback, and they're certainly not unusual in the zombie genre, but they still annoyed me a bit.
On the other hand, the characters also come up with some pretty clever ways of avoiding the zombies later in the movie, so that helps make up for the earlier stupidity.
As one might expect from its premise, this is a very sad, bleak story, without much of the silliness or crazy action you'd expect from an average zombie movie. Its message is ultimately pretty hopeful and uplifting, but there's a lot of depressing stuff to wade through before we get to that point. This is definitely not something to watch when you're trying to cheer yourself up after a rough day.
Overall, though, I thought it was just about as excellent as I would have expected from the makers of the original short. Martin Freeman is brilliant as always, and it's kind of nice to see him doing an indie movie like this after becoming part of the big Marvel machine. The Aussie actors backing him up also do a great job (even the twins who played the baby, although whoever directed them should probably take the credit for that). There's some impressive zombie makeup, some lovely shots of the Australian landscape, and some hauntingly beautiful music. It's more thoughtful and more creative than the straight-to-Netflix label might suggest, and I feel comfortable saying it's the best zombie movie I've seen in quite some time.
While I was watching it, though, I realised it's been at least a good month and a half since I saw a movie in which all the main characters survive to the end. I need to find a more cheerful movie for next week…
Grade: A-