It's a Christmas miracle! Sony has made another Spider-Man movie that doesn't suck!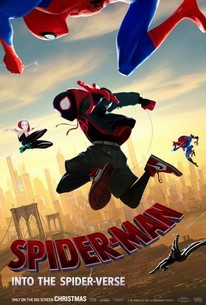 Spider-Man: Into the Spider-Verse
Directors: Bob Persichetti, Peter Ramsey, Rodney Rothman
Writer: Phil Lord
Starring: Shameik Moore, Jake Johnson, Hailee Steinfeld, Mahershala Ali, etc.
Music By: Daniel Pemberton and various hip-hop artists
Rated PG (Contains typical superhero violence, lacking in blood but not consequences)
Peter Parker is a well-established superhero, protecting New York City as the one-and-only Spider-Man…up until teenage Miles Morales gets bitten by a radioactive spider in a subway tunnel, gaining superpowers such as the ability to climb walls, leap buildings, and think in comic book captions. And there are more spider-people on the way, thanks to a new super-collider that is connecting parallel universes in NYC, courtesy of the Kingpin. Five versions of the wall-crawler need the collider to get back to their universes, but they also need to destroy it before it causes a black hole powerful enough to change the art style of Miles's world. Sounds like a job for the Spider-Men, Spider-Woman, Spider-Man Noir, Anime Spider-Girl, and Spider-Ham.
Saying this movie doesn't suck is actually the understatement of the year. I had fairly high expectations, and it blew them all away before the halfway point. A Sony Spider-Man movie–an animated Marvel movie–a movie with this many directors, this many characters, and this much weird comic book lore packed into it–has no right to be this amazing. Someone should call the movie police.
As previous Spider-Man films have shown us, it's tough to make a movie work when it has more heroes and/or villains than you can count on one hand. This movie manages it, I think, by staying laser-focused on two things: Miles Morales as a character, and Spider-Man as an archetype. Miles is an instantly relatable kid, dealing with stuff like homework, crushes, and the pressure of deciding who he wants to be when he grows up. He's smart enough to attend what appears to be a middle school for geniuses, but he tries to stay "cool" by failing his tests and vandalising subways. He's best friends with his law-bending uncle, but has a strained relationship with his cop dad.
All his typical middle school struggles are just compounded when he becomes Spider-Man, because, as he soon learns the hard way, Spider-Man is the multiverse's punching bag. More than any of his other recent big screen appearances, this one really nails what people love about Spider-Man. It's the same reason I love Daredevil and other "street-level" heroes: they're underdogs. And Spider-Man invented the underdog superhero. No matter the race, gender, species, or universe, the web-slinger is always a fallible hero going up against something bigger and stronger than he/she is. And no matter the odds, he/she always manages to pull out a win. That fighting spirit is what gives this movie its enormous heart, and I honestly wasn't ready for all the feels it gave me.
Another thing that surprised me about the movie was its sheer cleverness. The humour is often as subtle and smart as it is hilarious. There's not a fart joke to be seen, but there is a joke about the black-and-white Spider-Man Noir trying to understand a Rubik's Cube. Oh, and there are one or two meme references (be sure to stay for the end credits) and inside jokes for comic fans. Including the most emotional Stan Lee cameo yet (RIP). But thanks to the fantastic, tightly-written script, I followed the story effortlessly despite not being a hardcore Spidey reader. You don't necessarily need to know a lot of background info on Spider-Man to enjoy this movie–but I imagine you'll enjoy it even more if you do. (According to my research, every version of Spider-Man and his villains shown in this movie does indeed come from the comics. Even the anime one.)
The animation here is unlike anything I've ever seen. I need to stop saying that superhero movies remind me of comic books come to life, because this is the only one where it's really true. Not only is the style inspired by old-fashioned three-colour comics, but there are a ton of little touches ripped straight from the panels: sound effects and thought bubbles appearing onscreen, different art styles for characters from different universes, and a climax that bends time and space in ways that could only work in a comic or an animated film. Every shot is beautiful, and every art choice serves the story. The visuals alone easily make this one of the most creative animated movies I've ever seen.
Like I said, though, it's really the characters that make this movie special. The mentor/student relationship between the inexperienced Miles and the washed-up Peter Parker is both funny and heartwarming, as is the camaraderie between all the spider-people. Miles's relationship with his family gave me the most feels, probably because it was the most realistic conflict in the movie (and because the kid kinda reminds me of a lot of the students I work with…), but his friendship with the parallel versions of himself is what really brings the movie's message home: No matter what you're going through, there's someone out there who understands. And no matter who you are, you can overcome your flaws and do the right thing, as long as you're brave enough to take "a leap of faith." What a perfect motivational boost for the last week before Christmas break.
Overall, this movie does what even some of the better MCU movies failed to do: nail the balance between self-awareness and sincerity. It's very funny, and a lot of its jokes are on the meta side, but it knows when to stop winking at the camera and get serious. The stakes always feel real, and even though the PG rating means a lot of kids will be watching, the movie never talks down to its audience. Thanks to an extremely well-written script, some good voice acting, and of course the incredible animation, this movie is able to poke fun at the sillier side of Spider-Man's history while celebrating the heroic virtues he stands for.
Let's see, what else did I love about Into the Spider-Verse? It has the best version of Aunt May EVER, it has my favourite hip-hop-based soundtrack ever (sorry, Black Panther), and it has one of the best superhero suit-up scenes in film history. I love all the side characters, especially Spider-Man Noir, and I would probably watch a whole movie about any one of them. Honestly, the only thing I didn't love about this movie is that Kingpin wasn't voiced by Vincent D'Onofrio. And even without his definitive actor, he was still a decent villain.
My love for the Raimi Spider-Man movies is strong, and my love for the MCU is even stronger. So I don't mean it lightly when I say that this might be my new favourite Spider-Man movie. None of the others have had such flawless artistry, so many lovable characters, or such a rollercoaster of emotional moments. For that matter, neither have most of the movies that hit theatres this year, regardless of genre. I whole-heartedly recommend Into the Spider-Verse to all superhero fans, animation aficionados, and families (although the violence might be a little intense for more sensitive kids).
One last thing to point out: This is the first Spider-Man movie since the Raimi trilogy to use the "With great power comes great responsibility" quote. It's also, by far, the best Spider-Man movie since the Raimi trilogy. Coincidence? I think not!
Grade: A