Looks like Disney put out a new Star Wars movie last week.
Unless it was in 2012. I'm a little confused, to be honest.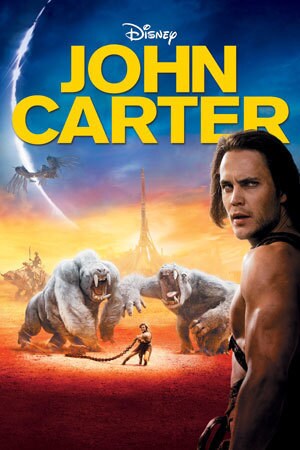 John Carter
Director: Andrew Stanton
Writers: Andrew Stanton, Mark Andrews and Michael Chabon
Starring: Taylor Kitsch and Lynn Collins
Music By: Michael Giacchino
Released: 2012
Rated PG-13 (for very mild language, blood that is mostly blue, and offscreen youngling murder)
This space opera tells the story of a lovable rogue who gets reluctantly caught up in a war between aliens, falls in love with a princess, and becomes best friends with a dog-like monster. More specifically, John Carter is a bitter Confederate soldier-turned-prospector who's hunting for gold in the Wild West when he comes across a glowing amulet that transports him to Mars–or, as the locals call it, Barsoom. Thanks to the lower gravity, he's extra strong and can jump extra high on Mars, which helps endear him to  a tribe of green, four-armed warriors. But when he bumps into a conveniently human-looking princess on the run from her fiancé, a warlord who wants to take over the planet, he quickly finds himself having to choose sides in a war between Mars's two major cities.
There are two reasons I thought I might like this movie going in. First, I enjoy those early sci-fi novels, written when actual scientists still thought there might be canals on Mars and rainforests on Venus, and nobody had a clue what space travel would be like. And this movie is based on one of the earliest examples of that type of book–A Princess of Mars by Edgar Rice Burroughs (same guy who wrote the original Tarzan). Second, I knew this movie was a huge box office flop when it came out, and, historically, most of my favourite Disney movies–Treasure Planet, The Rocketeer, The Emperor's New Groove, etc.–have also flopped to one degree or another.
And I did find a lot to like about this particular Star Wars movie. Some of its CGI hasn't aged well (I had the urge to laugh every time John Carter hopped into the air on invisible wires), but it still manages to paint a beautiful and believable picture of its Martian fantasy world. Even though the movie throws a lot of alien culture at the audience in a short amount of time, it does so almost completely through visual storytelling, not exposition. For example, nobody ever explains the four-armed aliens' method of reproduction, which is important for one of the many subplots–John Carter just stumbles across a nest of babies, and we then see how they're integrated into the tribe's society. Even some more complicated concepts, like the actual method by which our hero gets zapped to Mars, get about two lines of explanatory dialogue at most–the audience is just expected to pick up the idea based on what happens onscreen. Most sci-fi and fantasy movies have at least one long exposition scene, so I found this movie's commitment to show, not tell, rather refreshing.
Of course, the downside is that the audience is also expected to accept a whole lot of ridiculous names being thrown at us by actors (and CGI monsters) with absolutely straight faces. Tharks and therns and Jeddaks and a city called Helium and a magical chant containing a word that sounds exactly like "wheeze"…it's a lot to take, even for somebody like me, who thoroughly enjoyed Doctor Strange's magic artefacts. I imagine that's part of the reason this movie didn't do well at the box office, apart from its unnecessarily bland title. Without a built-in fanbase, it's hard for Hollywood to get people interested in a story with so many ridiculous names and places to keep track of.
Despite all that, I was always able to follow the story, and by the time John Carter got to Mars (which admittedly took a few minutes too long), I was invested. The lead actor isn't bad…although he does have one of those faces I automatically associate with gym-loving guys who use the terms "beta" and "–tard" unironically. I don't imagine he would do well in a role that required nuance and complexity, but fortunately this one doesn't. He's just a regular action hero with a very simple character arc, and it works.
The other characters largely make up for the hero's blandness. Princess Dejah Thoris, despite having yet another goofy name, is really quite likable and gets to do a lot more than I was expecting from a damsel in distress. But my favourite characters were the two main Tharks (the aforementioned four-armed aliens), who are, weirdly enough, played by two of the more famous actors in the movie. Theirs was the most interesting out of all the subplots woven through this story, and they were the characters I connected with the most on an emotional level.
Oh, and the dog-alien was cute, I guess. It seems there always needs to be a dog-alien when Disney is involved.
John Carter is very much in the vein of all the old, pulpy adventure movies where a muscle-y guy goes to an exotic place, punches some monsters while shirtless, kills the bad guys, gets the girl, and saves the priceless artefact (or is the other way round?). For what it is, it's very well-made and accomplishes pretty much everything it sets out to do. If you enjoy that kind of story, or if you just like seeing fresh visual takes on alien worlds, there's a very good chance you'll enjoy this movie.
Personally, though, I think its greatest weakness is that it's just okay. It's not bad, but it's not amazing, either. And I think that's why it failed so hard at the box office. The other Star Wars movies can get away with occasional mediocrity because they have the words "Star Wars" in their titles, and most people will pay money for anything even tangentially associated with that label. Because this movie left those words out of its title, it didn't have a gigantic fanbase willing to accept whatever nonsense was thrown on the screen, so it would have needed to be Lord of the Rings-level awesome in order to turn a profit. And it just wasn't.
After watching it, though, I'm honestly kind of sad we'll never get a sequel. I'd like to see more of Barsoom and its creatures and technology. Maybe I'll have to check out the books.
Grade: B
Oh, and maybe someday I'll review Solo for real. Didn't feel like paying theatre prices for it.