Now that Infinity War is out, I'm free to talk about stuff that isn't Marvel. And what better way to transition out of those giant box office juggernauts than with a relatively obscure cartoon by a D-list YouTube celebrity?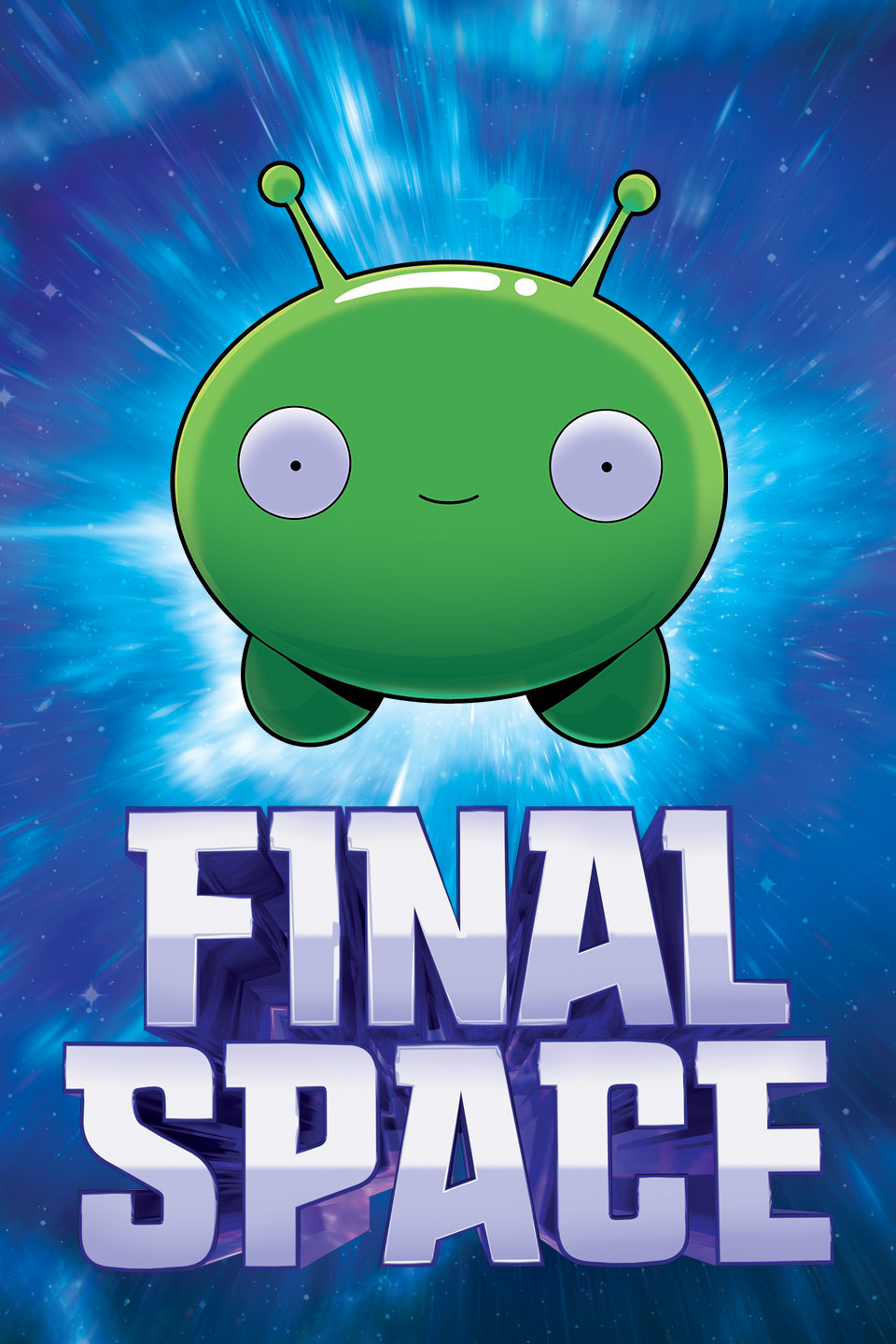 Final Space
Creators: Olan Rogers, David Sacks
Starring: Olan Rogers, David Tennant, Tika Sumpter, etc.
Music By: Shelby Merry and Jake Sidwell
Rated TV-14
Gary Goodspeed is finishing up a five-year prison sentence in deep space. He's only had a crew of annoying robots for company during that time, so he's overjoyed when an adorable little green alien, whom he dubs Mooncake, bumps into his ship, the Galaxy One. Unfortunately, it turns out that Mooncake is actually a planet-destroying super-weapon, and the evil Lord Commander is after it for nefarious purposes. Gary teams up with a grumpy bounty hunter named Avocato and a scientist named Quinn (who also happens to be his unrequited crush) to protect Mooncake and save the Earth–nay, the universe–from Lord Commander's schemes.
Pretty much ever since I discovered YouTube, Olan Rogers has been among my favourite YouTubers. Whether it was his early skits with the BalloonShop channel, his later skits on his own channel, or dramatic stories about his life, his goofy-yet-wholesome brand of comedy has always been one of the few things guaranteed to cheer me up whenever I'm feeling down. If you've never heard this man tell a story, you should remedy that immediately. Here's a link to a classic to get you started.
So naturally, I was thrilled when I found out this guy had made it big and started his own cartoon show on TBS. And for the most part, Final Space is exactly what I would have expected from Rogers. The humour is very much in the same vein as his YouTube stuff, relying on odd euphemisms ("Dear Heavenly Lightning Lord!"), other colourful turns of phrase ("I didn't expect that hurt coin deposit in my sadness savings!"), and general absurdity. But it also throws in a lot of morbid, black comedy…which mostly works even better in the world where this story takes place.
And the world of Final Space looks great. Heck, space itself is the best-looking thing in this show. The character designs may be cartoon-y, but the backdrops, the spaceships, the supernovae and the occasional apocalyptic destruction just look like beautiful sci-fi art. The soundtrack, which I think I can best describe as indie space rock, adds several layers of atmosphere and perfectly complements every emotional moment. It's one of the better soundtracks I've heard in a show, cartoon or otherwise.
But the best thing about the show is easily its characters. Gary is a bit of an acquired taste (even more so, I imagine, for anyone unfamiliar with Olan's style of humour), but he's often hilarious, and always a great guy at heart. Quinn is all the heroism with none of the stupidity, Avocato is as cool as he is cat-like, and David Tennant, again, shows his skill at creating villains I love to hate with his unrecognisable Lord Commander voice. Even the show's robots have a wide range of personalities, from the everlasting annoyance of KVN to the patient, loyal HUE. And Mooncake is just ridiculously adorable.
As eclectic as they are, all the main characters have one thing in common: they're all flawed, and they all know it by the end.  Gary is impulsive and irresponsible, Quinn is stubborn and tends to put her trust in the wrong people, and Avocato is a ruthless mercenary trying to atone for a dark past. But throughout the show, they strive to become better people and often succeed, mainly because of their undying loyalty and friendship with each other. Gary himself sums it up best: "All of us are broken. It's just a matter of how much, and how far we're willing to go to fix it."
Even though I found it quite funny, I think calling Final Space a comedy would be a stretch. The jokes are just the sprinkles on top of the show. At its gooey centre,  this is an epic space opera about a ragtag group of heroes facing down impossible odds to save each other and the world. For every moment that made me laugh, there was at least one other that tugged at my heartstrings.
Oh, and there's quite a lot of gory death–sometimes deliberately over-the-top for comedy's sake, and sometimes played straight. The show also has something of an atmosphere of impending doom. Each episode begins with a flash forward to a future in which Gary is drifting alone in space, slowly running out of oxygen with only HUE for company, so we don't start off with a whole lot of confidence in a happy ending.
Final Space is only 10 episodes long, and each episode is only about 20 minutes, so it has to cover a lot of ground in a short amount of time. For the most part, it does this admirably (I imagine years of experience with YouTube shorts helps with that). Hardly a single moment feels wasted, and the writing manages to pack a ton of character development and a rather complex plot into the allotted time. Still, the format does limit its storytelling a bit. I would have liked to see more backstory for some of the characters, and the romance between Gary and Quinn really suffers from the compressed timeline. It's pretty much your basic "loser falls in love with girl way out of his league, gradually wears her down with persistence and a winning personality" story from every comedy ever. The show at least tries to make their relationship feel natural (it helps that Gary really is a good guy at heart), but there's just not enough time for it to work. Fortunately, there have been hints on the Twittersphere that Season 2 will be longer.
Other than that, and a few jokes that didn't land for me, the only thing I don't like about Final Space is that its soundtrack hasn't been released yet. I need that in my life.
Disclaimer: This is the first cartoon for adults I've ever gotten into, so I don't really know how it compares to stuff like Rick and Morty or Futurama. If you're a fan of the genre, you might come in with very different expectations than I did. But coming in as a fan of Olan's YouTube channel, and with no other background info whatsoever, I kinda loved it.
It should be noted that, based on his videos and the way he interacts with fans online, I think Olan Rogers might be one of the most decent human beings working in entertainment right now, so I was somewhat predisposed to like this show just because of that. It's hard not to want a guy like Olan to succeed, especially when he seems so genuinely grateful for the success he's had already.
But while its humour might not be everyone's cup of tea, and its story occasionally falters,  I do think this is a good show on its own. It's got flavours of Firefly and Guardians of the Galaxy, and just a hint of Doctor Who, but Final Space  is very much its own thing, and it's one of the more imaginative sci-fi stories I've encountered in a while. It surprised me, made me laugh, and took me on a wild emotional rollercoaster. I can't wait for Season 2.
Grade: A-