We started off the month with a fun, colourful Marvel comedy about a Norse god who fires magic lightning at other gods during big space battles. So now it's time for something completely different.
The Punisher
Creator: Steve Lightfoot
Starring: Jon Bernthal, Ebon Moss-Bachrach, Amber Rose Revah
Music By: Tyler Bates
Rated TV-MA
Warning: Both the review and the show assume you have seen Season 2 of Netflix's Daredevil.
The latest Marvel/Netflix show opens with Frank Castle, aka the Punisher, hunting down the last surviving members of the three gangs that killed his family. His revenge seemingly complete, he grows a beard, changes his identity, gets a job as a construction worker, and tries to live something resembling a normal life. To no one's surprise, he fails. But it's okay, because it turns out his revenge isn't as complete as he thought. No, his family's deaths were part of a larger conspiracy that began during his combat days in Afghanistan and could reach all the way up the ranks of the U.S. military and CIA. Frank teams up with a hacker called Micro, who has also been screwed over by the government, to find the masterminds behind this conspiracy and take them down. Meanwhile, a Homeland Security agent named Dinah Madani is investigating the death of her partner in the same part of Afghanistan where Frank served, and a couple of Frank's war buddies become interested in his fight for very different reasons.
First of all, I want to point out that this show has the second best opening title sequence of the Marvel/Netflix 'verse so far. Slow, gritty, Western-styled theme music reminiscent of Johnny Cash plays over a montage of guns being assembled and fired in slow motion, until they all come together to make the Punisher's skull logo. Watch that title sequence, and you know exactly what you're in for with this series.
I went into this with very mixed expectations. On the one hand, the Punisher (or more specifically, Jon Bernthal's performance as the Punisher) was easily the best thing about Daredevil's second season. On the other hand, the Marvel/Netflix shows have been going steadily downhill ever since that season, and as much as I loved Frank in his supporting role, I wasn't sure he had enough story and substance to carry a whole show by himself. Besides, in case you couldn't tell from the name, or the fact that his logo is a skull, the Punisher is a bit…intense. I have a strong stomach for TV violence, but I do have limits, and Frank pushed them even in his relatively short subplot on Daredevil.
Some of my fears were well founded. This first season suffers from the same pacing problems that have plagued every Marvel/Netflix show since Daredevil Season 1. It's not as bad as Luke Cage or Iron Fist, but it does drag a bit towards the middle, and I feel it could have been shortened to nine or ten episodes without losing anything super important.
But I was pleasantly surprised by the amount of story we got in this show. I was worried it would be nothing but a 13-hour bloodbath with barely any plot…which, no doubt, is what some other fans were hoping for. Instead, this show gives us a complex story, tons of character development, and some fairly hard-hitting social commentary. Even when the characters are just sitting around and talking, I'm usually not bored, because I'm actually interested in these characters and what they have to say. I think that's the main reason the slow pacing didn't bother me as much as it did in some of The Punisher's sister shows.
The Punisher's first appearance established that much of his unique brand of brokenness comes from his experiences as a Marine serving in Afghanistan. This show fleshes out that aspect of his backstory significantly, showing how the war was already starting to turn him into the Punisher before his family's deaths finished the job. The show also uses his issues as a jumping-off point to examine the problems that face many modern veterans coming home from combat: from the difficulty of finding a job to PTSD to the feeling of isolation from "normal" society. To say the U.S. military isn't shown in a very favourable light here would be an understatement. Most of the high-ranking officials we see are corrupt scumbags who care more about grabbing power for themselves than protecting their country. The veterans we see, even those who end up committing terrible crimes themselves, are universally portrayed as victims of a system that has lied to them, used them, and cast them aside like worthless pawns. When superhero shows tackle real-life issues, it doesn't always go smoothly, but in this case I found it heartbreakingly effective. While this show may have exaggerated things a bit, it's no secret that real-life vets often have a tough time coming home. And while I have no first-hand experience with the subject myself, I don't think it's a coincidence that some of the biggest Punisher fans I know are active or ex-military.
It's 2017 in America, so of course the whole gun control debate comes up as well. But the show doesn't really take a stance on the issue. It ridicules the extremes on both sides by way of a slimy, hypocritical gun control advocate and an NRA member who acts like a walking, talking right-wing Twitter troll. Frank himself just does his thing without worrying about the politics. He's the kind of guy who would find a way to keep a fully-stocked gun arsenal if he were in Sweden…and even if he couldn't,  the average gun-toting American still wouldn't stand a chance against him.
Speaking of gun violence, there is some. Also some fist violence. And knife violence. And bomb violence. And…let's just say that, even in a show where Frank manages to go several episodes without actually "punishing" anyone, this is still, by far, the bloodiest thing the MCU has produced. I had to look away during some of the fight scenes in the last few episodes. But while it may be a bit excessive at times, most of the blood and gore feels earned. It's not there merely for shock value–it's just a part of the world the Punisher lives in, thanks to the way his crappy experiences have twisted his mind. It also helps that it's made very clear just how messed-up Frank is, and that he and people like him are presented as tragic, broken figures rather than heroes. I often wonder how much of something one can show onscreen without glorifying it, but I think this show comes pretty close to showing lots of violence without making it seem "cool" or lessening its impact.
I said pretty close. I mean, there is a car chase at one point. And the Punisher's one-liners can be pretty hilarious.
And speaking of things that don't need to be on screen, there are also a couple sex scenes towards the middle that I really could have done without.
But what makes the show work is that it focuses more on the characters than the violence. Jon Bernthal continues to be incredible in the title role, providing Frank with some much-needed humanity while still selling his animalistic rage whenever he's in Punisher mode. His supporting cast is great, too–particularly Ebon Moss-Bachrach as Micro and Ben Barnes as an old friend of Frank's named Billy Russo. One of the most enjoyable parts of the show for me was the bromance that develops between Frank and Micro, despite their very different personalities. Frank's relationship with Karen Page also gets some more time in this show…and whether you want to interpret their bond as romantic or not (it's somewhat ambiguous), I think Karen is definitely at her best when she's with Frank. And vice versa. Madani makes some rather poor choices over the course of the season, but she's still very sympathetic. A veteran named Lewis who struggles with PTSD gives us a surprisingly emotional subplot. And all the villains are despicable enough to deserve everything they get at the Punisher's hands.
The online reaction to this show has been mixed so far, from both critics and fans. I can understand why. If you're squeamish about blood and violence, this is going to be too much for you. If you're a die-hard fan of the Punisher comics, it may not be violent enough for you. If your political views are too far to either the right or the left, there are some bits here that will offend you. It's extremely different in tone from any other MCU work–even the other Netflix shows. And then there are those annoying pacing problems.
But personally, I was surprised by how much I enjoyed this show. It moved me emotionally, and it made me think hard about some real-life problems in my society. Overall, I think The Punisher is tied with Jessica Jones as my second favourite Marvel/Netflix show. It doesn't quite reach the heights of Daredevil, but I'm not sure any superhero show can.
I'm just happy to see the Netflix 'verse returning to form. Welcome back, Frank.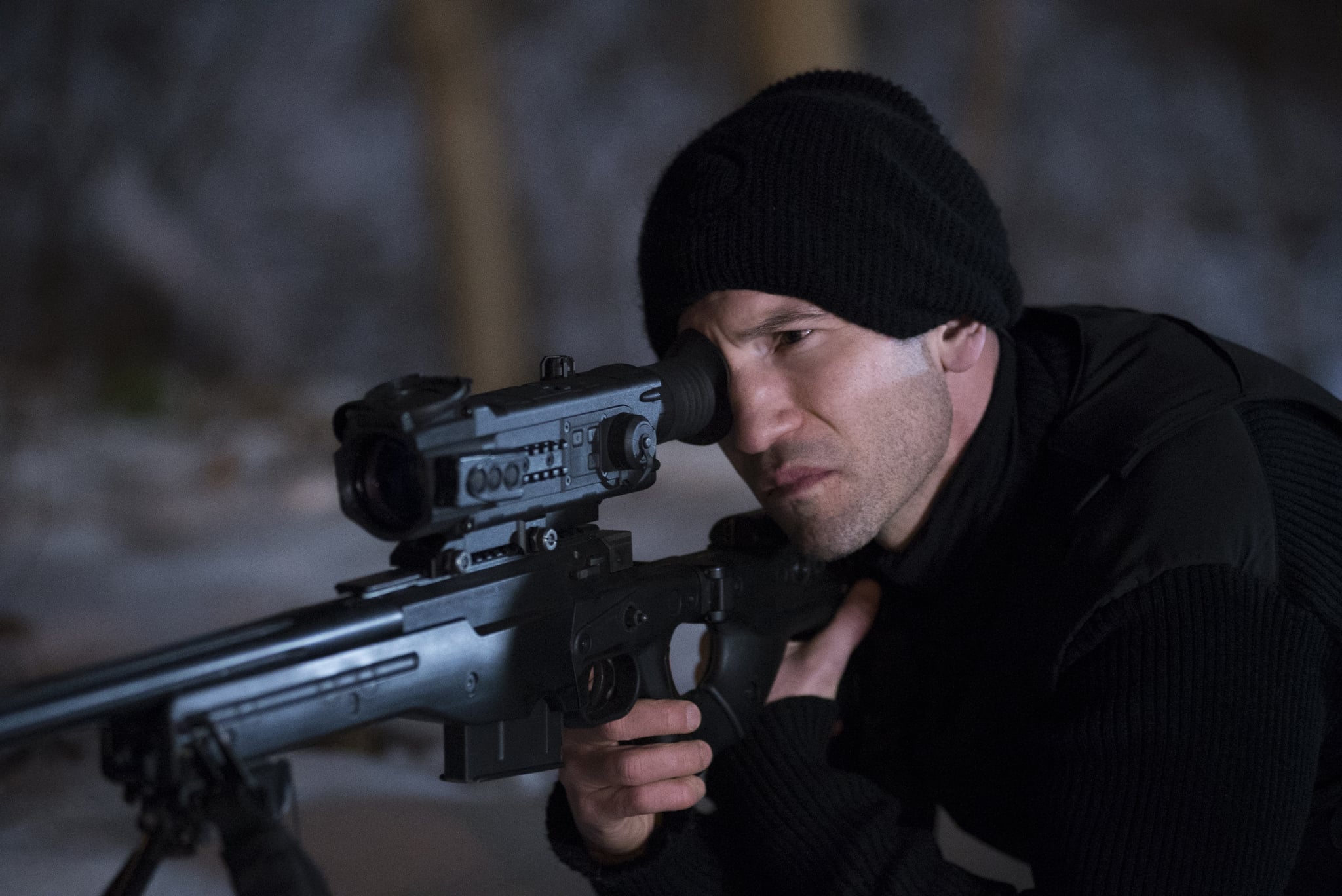 Grade: A-