Almost done with Phase 1! I could do this all day.
Captain America: The First Avenger
Director: Joe Johnston
Writers: Christopher Markus and Stephen McFeely
Starring: Chris Evans, Hugo Weaving
Music By: Alan Silvestri
Released: July 2011
This movie starts with a team of  SHIELD scientists discovering a futuristic-looking aircraft in the Arctic, and finding a different kind of shield inside it–just to get rid of any suspense as to how the movie was going to end. About 70 years in the past, Steve Rogers is a scrawny little man with a medical condition for every letter of the alphabet who desperately wants to fight in World War II. He finally gets his chance when he's selected to be the guinea pig for a super-soldier serum the U.S. military wants to use on its soldiers. About 200 pounds of muscle later, he finds himself on the front lines…of a propaganda campaign to sell war bonds. Despite taking a star-spangled detour, Captain America eventually finds himself on a real battlefield, where he has to fight an insane Nazi officer who got super-soldiered the same way he did, but with worse side effects.
When I first heard this movie was coming out, I remember thinking that it sounded like a terrible idea. Everything I knew about Captain America came from that classic World War Ii-era comic book cover where he's punching Hitler in the face while decked out in red, white, and blue. Even in my youth, when I still had an ounce or two of patriotism in my blood, that seemed a little on the nose. But fortunately, this movie is very self-aware when it comes to its main character's origin as World War II propaganda. One of the best scenes (not only in this movie, but in all of Marvel's Phase 1) is the montage showing Steve's career onstage, accompanied by a hugely cheesy, over-the-top patriotic musical number. It basks in the silliness…but it also shows little kids cheering when Cap punches fake Hitler in the face, and soldiers overseas reading Captain America comics, just to drive home how effective that kind of propaganda can actually be.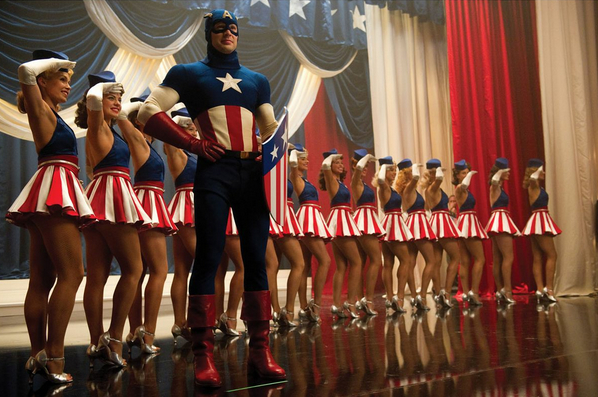 The rest of the movie is a classic underdog superhero origin. Steve is a weak, skinny guy who constantly gets beat up by bullies, until he's suddenly granted the power to protect other people from bullies. It's very effective, mainly because the movie spends the first half hour or so letting us get to know pre-steroid Steve: a physical weakling who doesn't know how to be afraid of bullies no matter how many times they beat him up, but is desperately afraid of not living up to his own ideals of heroism. He's so obviously a hero even before he gets turned into a super-soldier, which just makes his transformation that much more exciting. As Dr. Erskine says before giving him the serum, "A weak man knows the value of strength."
This is what makes the first half of this movie so good: lots of great character moments, a very sympathetic hero, and a strong supporting cast. Tommy Lee Jones is great as the Colonel, Stanley Tucci creates a wonderful mentor figure in Dr. Erskine, and Peggy Carter is the first female character in the MCU who is allowed to act like an actual human being. And even though the script doesn't give him much to work with in the way of character motivations, Hugo Weaving still manages to make the evil Red Skull entertaining. Steve's friendship with Bucky, his burgeoning crush on Peggy, and his desire to become the all-American hero he plays on stage make for a little more than an hour of compelling drama.
Unfortunately, the movie kind of falls apart in the second half. It tries to introduce a load of new side characters–the Howling Commandos–and turn Steve's story into a quest to defeat Red Skull and his Hydra army. But there isn't enough time to get to know the Howling Commandos, and most of their quest is covered in a montage. A pretty lame montage, at that. Captain America never even comes off as a particularly good fighter, post-steroids. If I were judging by this movie alone, I'd think he wasn't that much stronger than the average non-super soldier. To top it off, the manner in which Steve gets put on ice feels contrived. I think he (and his supporting cast, many of whom never appear in the MCU again) deserved a little better.
I firmly believe that character development is more important than action, even in a superhero movie, but you can't really have a superhero movie with no good action scenes. And that's pretty much what we get here. The character stuff is all great, when enough time is allotted to it, but the action is silly at best and boring at worst. Overall, it makes for a somewhat underwhelming experience.
My other problem with this movie didn't actually bother me the first time I saw it, but I think it's had a negative effect on other parts of the Marvel universe. The problem is this: we never actually find out what Hydra's beliefs are, or what they hope to accomplish after taking over the world. We know they started out as Nazis (thus the evil bit), but they obviously don't buy into the whole "Aryan perfection" piece of Nazism, and they don't seem particularly nationalistic. Later movies and TV shows try to turn Hydra into a more complex and modern threat, complete with fanatical "true believers" and cynical folks who just use Hydra beliefs as a means to power, but since the film that introduced them never gave us a clear picture of what those beliefs were, all those attempts were doomed to fall a little flat.
Despite its faults, though, I have to say that I really enjoy this movie. Since it was a first introduction to Captain America for me and most of the average movie-going population, I'm ultimately glad it erred on the side of too much character development rather than too much action. For such an old-fashioned hero to work in the modern world, he needed a solid foundation of principles and human motivations to start out with. And that's what we got in The First Avenger. Every internal and external conflict Steve Rogers faces in the MCU can be traced back to where he started in this movie: a skinny kid from Brooklyn who wanted to fight bullies. This is where we first see his devotion to American ideals like freedom, individuality, and Nazi punching; his sometimes-problematic stubbornness; his fear of losing a teammate on his watch; and a host of other character traits that will end up driving the plots of later movies.
As flawed as The First Avenger is, it's possibly the most essential Phase 1 movie to watch if you want to understand the rest of the MCU–with the exception of Iron Man, of course. Captain America will remain one of the most important characters for the rest of the franchise, and this is the movie that made me like him. He's brave, tough, determined, and he cares about the little guy. In other words, he's just the kind of old-fashioned hero I like.
It was tough for me to choose between this movie and Thor, but on the strength of its first half alone, I think Captain America's first outing is just a tiny bit more worthy.
Captain America: The First Avenger
Thor
Iron Man
Iron Man 2
The Incredible Hulk