It's been fun, guys, but it's time to wrap up my Marvel re-watch.
I started this blog right after Captain America: Civil War came out, so I've already reviewed all the movies in Phase 3. (You can find those reviews here, here, here, here, here and here.) However, I still need to rank them in comparison to the rest of the MCU.
Before I do that, though, I have a few thoughts to share about Phase 3 as a whole. While none of the last six movies have quite surpassed The Winter Soldier for me, overall this has been my favourite era of Marvel by a long way. It's established a wacky, colourful aesthetic for the MCU's cosmic stories that I absolutely love, and the movies have gotten more visually creative in general. The music has improved–MCU soundtracks used to be nothing to write home about, but I listen to the soundtracks from the last few movies regularly.
In Phase 3, Marvel has also shown an increased willingness to take creative risks (something you can do when you have a money-printing franchise like this, I guess). Directors like Taika Waititi are getting more freedom to make movies their own way instead of fitting them into a set "Marvel formula," and more odd, obscure comic characters like the Watchers are getting their moments in the spotlight. And finally, after almost a decade, the franchise is starting to take steps towards giving its female characters equal screentime and development. We're not quite there yet, but at least the female leads in the last few movies have had more to do than look pretty.
So here's where I'll rank each of the Phase 3 movies, and why.
Spider-Man: Homecoming – #9
To me, this was the weakest of the Phase 3 films–which really tells you a lot about the level of quality we're dealing with here. It's a fantastic high school comedy with some decent superheroing thrown in. There's a strong argument to be made that Tom Holland is the best Spider-Man–or at least the best Peter Parker–we've ever had onscreen, and the Vulture is easily one of the best Marvel villains ever. I'll admit that I enjoyed the movie a bit more on the re-watch, since I'd had more time to get used to how different it is from the Raimi trilogy, but it still didn't quite measure up to the rest of Phase 3 for me. The plot twist that made the movie so surprising the first time around loses a lot of its impact when you know it's coming, and the actual superhero action scenes remain disappointing. Still, as a light-hearted coming-of-age story, it holds up quite well, and it's always nice to get a glimpse of what a regular New Yorker's life is like in the Marvel universe.
Doctor Strange – #8
Yes, the plot is identical to Iron Man in many ways. Yes, it contains the last of the really weak Marvel villains. But I am so in love with the world this movie created. The unique brand of magic, the crazy parallel dimensions, the super nerdy-sounding names like the Cloak of Levitation and the Eye of Agamotto–that's the kind of stuff I live for. It also has some of the wildest visuals I've ever seen in a movie, superhero-related or not. And in the end, it has possibly the finest example in the superhero industry of a hero saving the day with brains rather than brawn. This movie opened up some wonderful possibilities for the MCU, and despite his dodgy American accent, I can't wait to see where Doctor Strange will go next. Plus, his Cloak is adorable.
Black Panther – #6
When I first saw this movie, I thought it would make my top five, but upon reflection, there were just too many other great movies in Phase 3. Black Panther is a hugely creative, colourful, and thought-provoking film that blends fictional worlds with real-life issues even better than The Winter Soldier did. It has one of the best ensemble casts in the MCU, stuffed to the gills with great characters like Okoye, Shuri, M'Baku, Klaue, and of course, T'Challa and Killmonger. Its soundtrack is rivaled only by that of Thor: Ragnarok in my heart. Honestly, the only thing that kept it out of my top five was that it was a little too predictable–it never surprised me the way most of the Phase 3 movies did. And it criminally underused Andy Serkis. Other than that, my only complaint is that it made me want to visit Wakanda, and I can't, because it's not real. Reality spoils everything.
Guardians of the Galaxy, Vol. 2 – #4
It was reeeeaaaalllly tough to decide which of the Guardians movies would take this spot, because I see them as equally great in most respects. But in some ways it's harder for a sequel to live up to a great predecessor than it is for an original movie to make an impact, and Vol. 2 is a nigh perfect example of how to do it. It keeps the tone and atmosphere of the original intact, while heightening the emotional stakes and growing all the characters into better people and better heroes. Yes, some of the humour does fall a little flat, which is a problem the original didn't have. But to me, Vol. 2 makes up for a few lame jokes with bucketloads of character development and some of the most emotionally rich storytelling in the MCU.
Captain America: Civil War – #3 
Another super tough decision! Up until this week, Civil War was the most ambitious movie in the MCU apart from Age of Ultron, and much more successful at everything it tried to do. But to me, the most impressive thing about it is not the number of characters it brought into one movie, not the introduction to Black Panther and Spider-Man, and not any of the spectacular action scenes (although I still squee a bit every time I watch the emergence of Giant-Man). To me, the most impressive thing about this movie is that it managed to portray two equally heroic characters having an ideological disagreement in which both sides are flawed but have a point, and neither is made out to be the bad guy. To this day, if you put a bunch of MCU nerds in a room, you won't get a consensus about whether Iron Man or Captain America was in the right, and to me, that's a mark of excellent storytelling. (I'm #TeamCap, though.) It's also a powerful witness to the success of this whole "shared universe" idea, because it wouldn't have worked nearly as well if we hadn't already had half a dozen movies to get to know these characters. The only reason I'm ranking this lower than The Winter Soldier is because, unlike that movie, I can find things wrong with it if I really try. I don't like the sudden romance between Captain America and Sharon Carter, and a part of me wishes this had been billed as an Avengers movie so Cap could finish his trilogy with a true solo outing.
Thor: Ragnarok – #2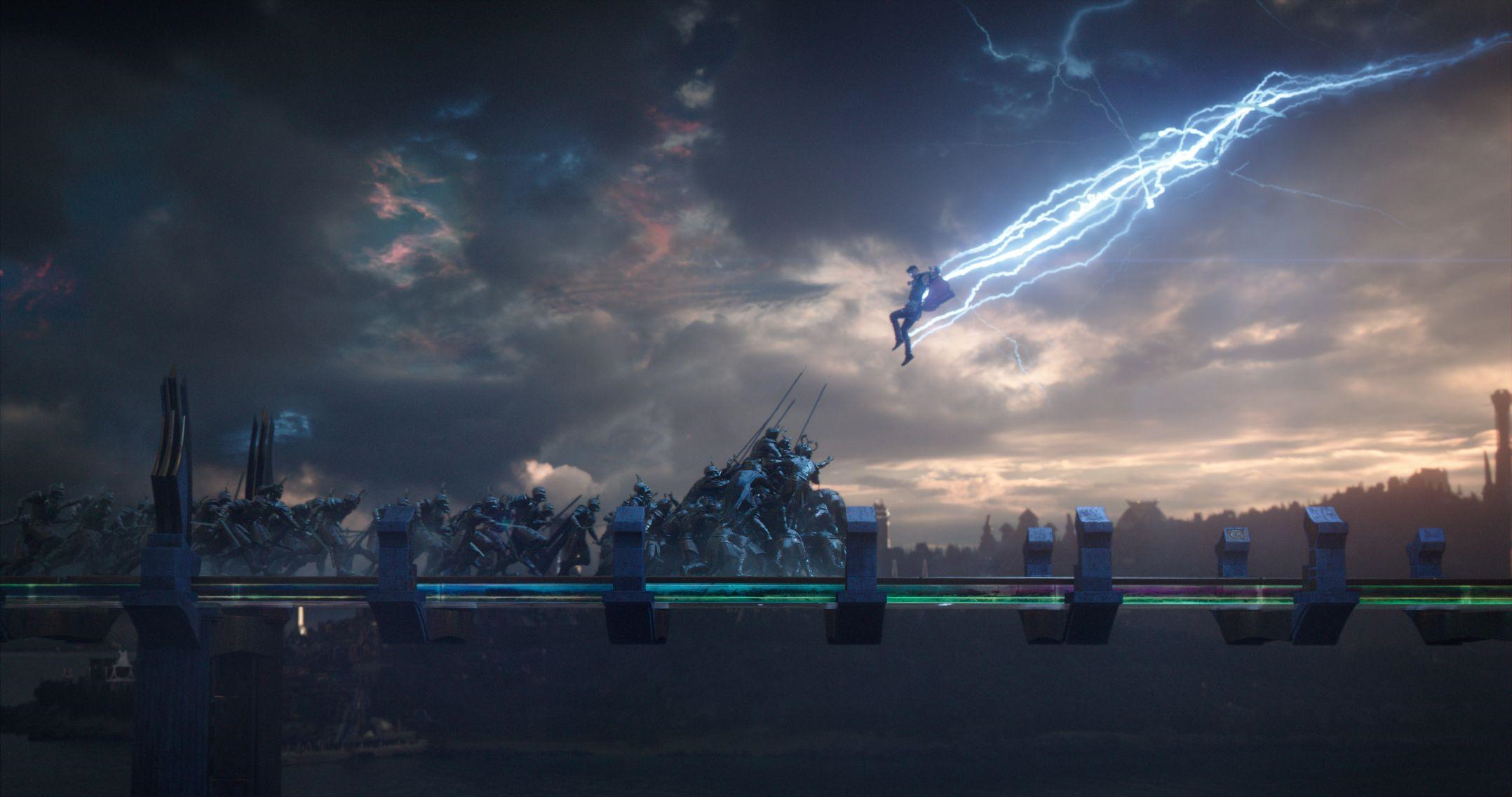 This movie is beautiful, in every sense of the term. It's the most visually gorgeous film in the MCU. It has the most epic action scenes in the MCU. It has some of the best music in the MCU. And out of all the movies in the MCU, this is the one that feels most like a comic book come to life. It's also hilarious, of course, but the more I rewatch it, the more the humour feels like a happy side effect of everything else. This movie is what you get when an unconventional comedy director gets a blockbuster budget and decides to embrace everything about the blockbuster's source material–no matter how wacky or obscure. The result is a movie that singlehandedly transformed Thor from the most boring Avenger to one of the best. That meant getting rid of a lot of his franchise's unnecessary trappings, like an annoying girlfriend and some side characters who had already failed to be interesting for two movies, but it also meant making some sense out of Loki's motivations and letting Chris Hemsworth be the comedy actor he was always meant to be. The movie's effect on the Hulk was almost as drastic, allowing him to be so much more than the big, dumb brute we saw in previous movies. And it did so while introducing a whole new generation to Led Zeppelin and bringing us the magic of Korg. It's only been out six months, but I've already rewatched this movie more than any other MCU entry except The Winter Soldier, and it's just as good every time. It can't quite replace Captain America's best movie in my heart, but the seductive Lord of Thunder can't be ignored.
So there you have it! My final, definitive ranking of the MCU. At least until Thursday. Let me know what you consider the #1 Marvel movie!
Captain America: The Winter Soldier
Thor: Ragnarok
Captain America: Civil War
Guardians of the Galaxy, Vol. 2
Guardians of the Galaxy
Black Panther
The Avengers
Doctor Strange
Spider-Man: Homecoming
Ant-Man
Captain America: The First Avenger
Thor
Iron Man
Avengers: Age of Ultron
Iron Man 3
Iron Man 2
The Incredible Hulk
Thor: The Dark World