Dang, it's 2018 already. And I was just getting used to 2017…
The past year was an excellent one for movies, whatever it may have been like in other areas. I think I spent more time at the movie theatre in 2017 than in any other single year of my life, so narrowing down my favourite movies of the year to just five was a bit difficult. Here are the winners. (Spoiler alert: there are a lot of superheroes.)
5. War for the Planet of the Apes
I'm still not entirely sure what made this movie stand out to me so much. Maybe it was the stark simplicity of its story, or the epic soundtrack, or the endearing characters, or even the cute little girl. But I think most of the credit, in the end, has to go to Andy Serkis's magnetic performance as Caesar. I couldn't take my eyes off him. He made a movie about an ape seeking revenge against a human seem like so much more than the sum of its parts. What an emotional and thought-provoking end to a great trilogy.
4. Logan
Speaking of magnetic performances, some of the year's best acting made it into this final Wolverine movie. (Although I'm sure Disney will find a way to make it  less final.) Exploring the limits of what a superhero movie can do seemed to be a theme for this year's crop of comic book movies, and Logan started things off right with a bloody, Western-style tale of growing old and passing on a legacy. It's one of the darkest superhero movies in recent memory, but it's also one of the most hopeful, and I felt that perspective was needed this year.
3. Wonder Woman
Okay. Objectively speaking, I'm fully aware that Wonder Woman is not one of the year's best movies. It overuses slow motion to an annoying degree, it has a lame villain, and its dialogue is extremely cheesy, especially towards the climax. I'm aware of those flaws, but personally, I also don't care tuppence about them. Seeing this movie for the first time in the theatre was one of the most uplifting cinematic experiences of my life. Finally, after years of being a superhero fan, I got to watch a fun, inspiring, courageous hero on the big screen who had the same number of X chromosomes as I do. It's been kind of a tough year for me, and I needed that little boost of encouragement even more than I realised at the time. Also, it was nice to have at least one DCEU movie that doesn't suck.
2. Thor: Ragnarok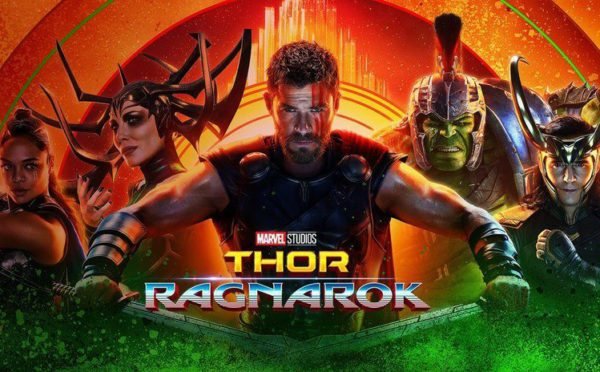 The more I think about this movie, the more I become convinced that it's actually brilliant. Director Taika Waititi took a bleak, dismal story about the end of an era for one of Marvel's signature heroes, and turned it into one of the year's funniest and most colourful action movies. And the truly amazing thing is that he did it without making said "end of an era" seem any less important or awe-inspiring. Horrible things happen in this movie, yes, but the hero still chooses to look on the bright side, so why shouldn't the audience? When it comes right down to it, I'd rather laugh at the end of the world than face it with a frown.
1. Blade Runner 2049
I didn't give this film my highest grade when it first came out because there were things in it that bothered me. And I'm still not a huge fan of Jared Leto's performance, and I still think the nudity hurts the movie's cause in many ways. But this movie made me think–hard–about why those aspects bothered me so much, while I found other aspects so powerful. It challenged my expectations and assumptions about sci-fi movies in general. Blade Runner 2049 stayed with me long after I left the theatre, and it kept drawing me back. It's easily one of the most gorgeous films I've ever seen, but more importantly, it has some of the most imaginative and original (yes, even though it's a sequel) storytelling I've ever seen. And the main theme of its story is so risky, so counter-cultural, that I don't expect to see it in a mainstream blockbuster again in my lifetime. Blade Runner 2049 dares to tell its audience of middle-class, advertisement-saturated Westerners: "You're not special. And that's okay." That's just one layer, of course–there are enough complex themes in this movie to fill an entire film studies course–but it's what I needed to hear at this point in my mid-20s life, and I don't think I'm alone in that. Everything about this work, from the visuals to the music to the message, feels surprising and fresh to me, and I think it's the 2017 movie that will stay with me the longest. "Beautiful, isn't it?"
There are plenty of runners-up, of course: Dunkirk, The LEGO Batman Movie, Star Wars: The Last Jedi, etc., but these five movies were the ones that made me feel the most…hopeful. To me, that's one of the best things a movie can do.
Of course, because of my limited budget and current living situation in Nowheresville, USA, I was only able to see this year's biggest blockbusters in the theatre. During the next few months, I'm hoping to discover some of the more obscure, indie flicks that I missed in 2017. I'm also hoping to try a few new things with this blog. Hopefully some of them will be worth reading.
Here's to another great year of wizarding and watching the clicks!