I like to imagine that the pitch for this movie went something like this: "So an outlaw, an assassin, a literal-minded alien, a talking raccoon, and a tree walk into a bar…"
Guardians of the Galaxy
Director: James Gunn
Writers: James Gunn and Nicole Perlman
Starring: Chris Pratt, Zoe Saldana, Dave Bautista, Bradley Cooper and Vin Diesel
Music By: Tyler Bates (and about a dozen '70s bands)
Released: 2014
We open in Missouri, circa 1988, on the worst day of young Peter Quill's life. He watches his mom die from cancer, and then, as if that isn't bad enough, he gets abducted by aliens. Fast forward 26 years, and he's an outlaw in a galaxy far, far away, stealing precious artefacts for money and going by the name Star-Lord (or trying to–no one else seems willing to call him that). But when he steals a particularly rare and powerful stone, he finds himself with a bounty on his head and a lot of competition. The worst of his competitors is a terrorist named Ronan, who wants the stone to help him wipe out the planet of his enemies. But the genetically enhanced assassin Gamora and the bounty hunters Rocket and Groot (the aforementioned raccoon and tree) also try to take the stone from Star-Lord…only for all four to wind up in prison as a result. But with the help of a warrior named Drax, who wants revenge against Ronan, they hatch a scheme to escape prison, get rich, and maybe save the galaxy along the way.
I give a lot of credit for how the MCU eventually turned out to The Winter Soldier, but an equal amount of credit should probably go to this movie. The Winter Soldier showed me that Marvel could do grown-up storytelling with real stakes and consequences. Guardians of the Galaxy showed me Marvel could do whatever it freaking wanted to.
I mean, it's one thing to make a Captain America or Iron Man movie. Sure, they were never as famous as characters like Batman or Spider-Man before the MCU, but even a sheltered, non-comic-book-reader like me had a vague sense of who they were. Nobody knew who the Guardians were before this movie came out. Even among avid Marvel comics fans, they don't seem to have been considered heavy hitters. And how often do you see a big-budget movie for adults that features a talking raccoon? At the time it came out, this movie was probably the riskiest thing Marvel had done.
But despite knowing nothing about the characters and having no idea what to expect from the story, I was hooked from the moment Peter turned on his Walkman and started dancing to "Come and Get Your Love" past the movie's giant title credits. From that point on, it felt like anything could happen. Once the movie established its fun, zany tone, I was ready to accept Rocket, Groot, and all the crazy visuals it could throw at me.
It has to be acknowledged, though, that this movie's greatest weakness is its plot. It's confusing at times (I still can't keep track of all the planets the heroes visit within the first half hour or so), and, on paper at least, it's not that interesting. Pretty much your basic "Generic Evil Overlord #7 wants to wipe out all life because of reasons; heroes must stop him by taking his MacGuffin." As wacky and original as this movie's setting and decor are, its story is one of the least original in the MCU.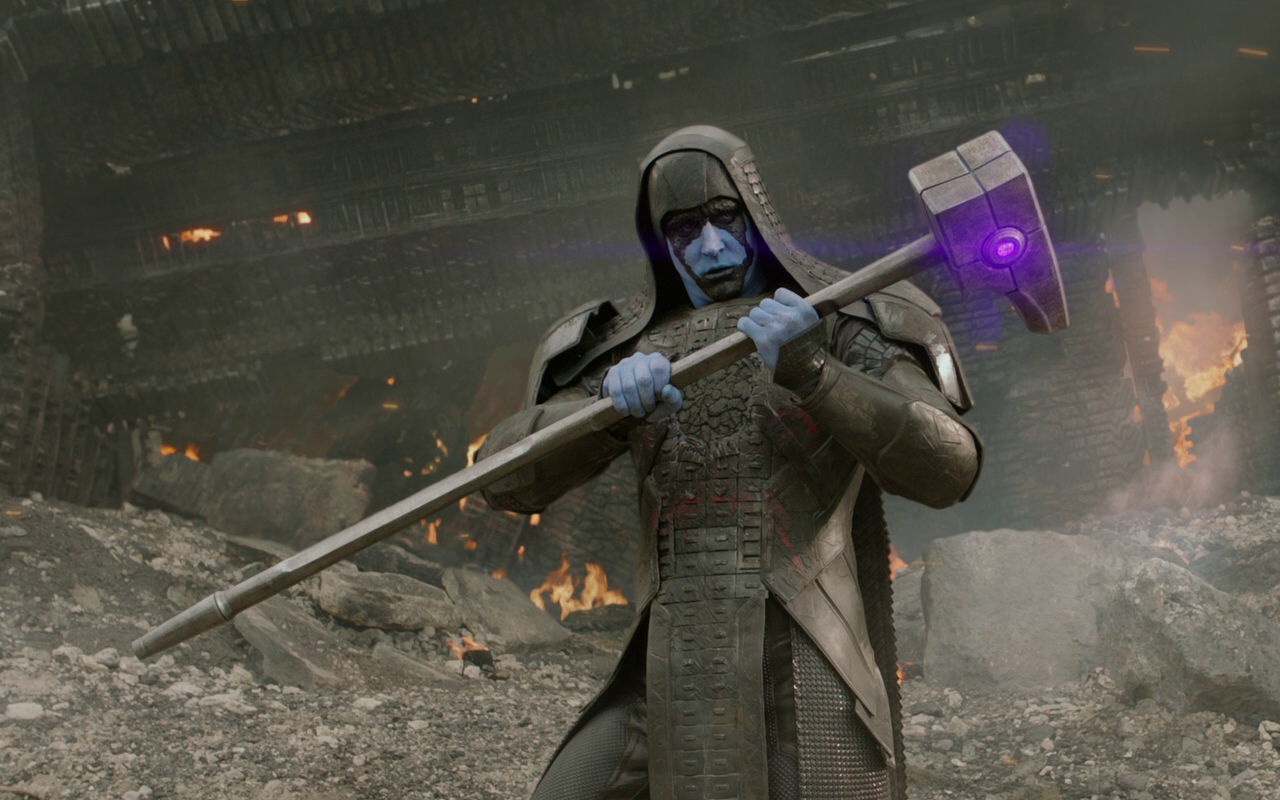 But who needs a plot when you've got characters like the Guardians? They're enough fun to keep me watching whether what's going on around them makes sense or not. Each of them is fun and quirky in his/her own way, but they also have a surprising amount of complexity beyond the quirks. One of my favourite things in fiction is when a character who seems like a complete joke turns out to have hidden depths–a tragic backstory, an unexpectedly awesome skill, or what have you. This is a movie full of those characters.
For example, when we first meet Star-Lord, he's an immature manchild who sleeps around, never takes responsibility for his actions, and treats everything like a joke (and/or an '80s pop culture reference). Of course we, the audience, know from the beginning that this is all a front to help him cover up the pain of losing his childhood, and his character arc in this movie is all about coming to terms with that pain. In doing so, he takes his first baby steps toward being a responsible leader and hero. Meanwhile, his Walkman, which he loves because it's all he has left from Earth, isn't just the source of most of the movie's awesome soundtrack; it's also the source of its most powerful feels.
Similarly, Drax is hilarious because of his inability to grasp metaphors (they're probably too slippery) and his sheer enthusiasm about everything, but it's also easy to sympathise with his sadness over the loss of his family and his desire for revenge. Then there's Rocket: a bloodthirsty maniac in the body of a small rodent, whose jerk behaviour is covering up a level of trauma that dwarfs Quill's. And Groot, despite being a tree with a three-word vocabulary, turns out to be a lovable dork who will do anything to help out his friends.
Gamora is the one who left the smallest impression on me. She's sort of the straight man of the group, which means she has fewer funny lines, and she's also the only female in the group, which means she spends most of the movie getting rescued and hit on by Peter. Sure, she also gets some cool fight scenes, and a hint of a complicated past with her sister Nebula (who was a fun villain even before we learned more about her dark past), but most of her character development was saved for the sequel.
Still, all five are a delightfully mismatched group, and they play off each other extremely well, both for comedy and drama. The real magic in this movie, beyond the crazy space battles and weird alien worlds, is in seeing these five losers–"as in, folks who have lost stuff"–bond and help each other as only flawed and broken people can. And it's ultimately their friendship that gives them the power to become the Guardians this galaxy needs. Sure, it's cheesy, but heartfelt cheesiness is sort of this franchise's thing.
Long story short, this movie is awesome. It's like Star Wars and Firefly had a baby and it became a huge fan of the Jackson 5. It paved the way for the more visually creative and colourful Marvel we got in Phase 3, and it did so with tons of humour and heart. It has some of the best characters in the entire MCU, which is saying a lot, and it most certainly has one of the best soundtracks of the MCU (until the sequel, that is). Which is not saying as much, but still.
Man, these ranking decisions are just going to get tougher, aren't they?
Captain America: The Winter Soldier
Guardians of the Galaxy
The Avengers
Captain America: The First Avenger
Thor
Iron Man
Iron Man 3
Iron Man 2
The Incredible Hulk
Thor: The Dark World