Well, this is it. Ten years of Marvel movies have all been leading up to this moment.
And yet, I don't think any of us were prepared.
Avengers: Infinity War
Directors: Anthony and Joe Russo 
Writers: Christopher Markus and Stephen McFeely
Starring: Half the Universe
Music By: Alan Silvestri
Thanos is a big, powerful, purple alien we've glimpsed a few times before in the Marvel movies, but never really got to know. He believes the universe is dangerously overpopulated, and he has a simple solution: kill half the universe. In order to accomplish this, he plans to collect the six Infinity Stones (which we've also seen popping up here and there in various Marvel movies) in his Infinity Gauntlet, which will allow him to wipe out as many intelligent beings as he wants with just a snap of his fingers. The Avengers, the Guardians of the Galaxy, Doctor Strange and the armies of Wakanda join forces to stop him from collecting all the Stones before it's too late.
There's basically no way to talk about this movie without giving away spoilers, so for the spoiler-free portion of the review, I'm just going to describe what it was like seeing this movie on opening night.
I live in a part of the country that doesn't have a particularly high concentration of geeks, or people who care about movies in general. So the theatre where I saw Infinity War was only a little more crowded than usual on Thursday evening. But there was a definite feeling of excitement as we waited for the movie to start. A lot of the people there were wearing Marvel gear (except for one brave soul in a Superman t-shirt) and swapping theories about who would die, where the Soul Stone is, etc. During the first two acts of the movie, there was a lot of laughter at the jokes, and loud cheers and applause at three specific moments. But during the last 15-20 minutes, the crowd became very quiet. As the movie drew to a close, the silence started being broken by people shouting at the screen. It was mainly a repeating cycle of "What?!" "No way!" "No!" and various profanity. When the end credits began, there was applause, but also a lot of audible frustration. Same thing happened after the stinger (which didn't come until the very end of the credits, by the way).
Personally, I spent the last few minutes of the movie giggling like a maniac, because it was exactly the ending I'd hoped and dreamed about for more than two years, and didn't expect to see.
Without giving anything else away, all I can say is that I highly recommend Infinity War—if you're a fan of the MCU and have seen at least most, if not all, of the previous movies. If you occasionally rent a Marvel movie from Redbox but don't really feel invested in any of the characters or storylines, this movie wasn't made for you, and you probably won't enjoy it much. It doesn't make any attempt to introduce characters we've met before or explain plot elements that were brought up in other movies. There's no time for that.
It's also important to realise going in that, despite the studio's decision to drop the Part 1 from its name, this movie is very much the beginning of a story, not a complete story in and of itself. If the end feels unsatisfying, that's because Part 2 is coming out next May to resolve a lot of the plot threads that were left dangling here.
So that's my spoiler-free review. If you're a Marvel fan, you're not going to want to miss this one. And definitely see it in the theatre if possible, because the audience's reactions are half the fun.
In the rest of my review, I'm not going to intentionally spoil any major plot points. But so much surprising stuff happens in this movie that I don't trust myself not to give anything away while giving my opinion on it, and I know a lot of people like to go into a movie as blind as possible. So there may be some minor spoilers ahead.
READ PAST THIS POINT AT YOUR OWN RISK IF YOU HAVEN'T SEEN THE MOVIE!!!!
(unless you don't care about spoilers)
So, one of the reasons I listed Thor: Ragnarok as my second favourite MCU movie was because it was the first one that truly felt like a comic book brought to life. I felt similarly about Infinity War--except that, more specifically, it feels like an event comic brought to life.
For anyone unfamiliar with comics, event comics are big crossovers that happen about once every five years in DC and once every five months in Marvel. They typically bring as many characters as possible together into one epic storyline that will have an impact on their entire universe, sometimes even rebooting the whole thing. That's what this movie felt like to me: just a giant, comic book-y crossover with a ton of beloved characters interacting in ways we've never seen before, with a much higher-stakes plot than we've ever seen before.
And while event comics can often be messy, involving a lot of contrived plot devices, people acting out of character, or pointless deaths, I felt this movie handily avoided most of those problems. Yes, the cast is huge, and some characters do get more of a spotlight than others out of plot necessity, but everybody gets at least one moment of character development or just plain awesomeness. Doctor Strange is about 10 times cooler here than he was in his own movie, Thor continues to prove that he is truly the Strongest Avenger, the Scarlet Witch/Vision romance gets more development, all the Guardians get to show off their growth from the last movie while remaining hilarious, and Tony Stark not only gets a ton of ridiculously cool new tech, but also gets to see his paranoia from the last 3-4 movies validated. (Though…he's probably not happy about that last part.)
But if this movie has a central character, it is Thanos himself. It's his quest for the Infinity Stones that drives the plot, and his character arc that forms the emotional core of the movie. More time is spent on his backstory and motivations than that of any other single character.
And the fact that I still hated his guts by the end says a lot about the filmmakers' storytelling skill, as well as that of his actor, Josh Brolin. Thanos is not at all sympathetic, no matter what certain fanboys on the internet might tell you. He's a genocidal maniac who's so convinced his cause is just that he will sacrifice anything to achieve it. And that makes him terrifying. He's easily the biggest threat the Avengers have ever faced, not just because the Stones make him so much more powerful than any of them, but also because he's so dedicated to his cause that we know he will never stop, no matter how many inconveniences our heroes throw in his way. As a result, this was the first Marvel movie where I wasn't sure the good guys would win. From the opening scene to the end credits, there was never a moment when they seemed safe, or their victory seemed assured. A constant atmosphere of dread and desperation hung over the entire two-and-a-half-hour runtime.
Of course, that's not to say there isn't plenty of the usual Marvel humour in this movie. There are quite a few moments that made me laugh out loud, mostly resulting from the interactions of characters who had never met before. The gigantic cast spends most of the movie in more manageable small groups, and each group of characters fits incredibly well together. Iron Man butting heads with the equally-arrogant Doctor Strange and Star-Lord makes for some comedy gold, as does Bruce Banner's encounter with Shuri. Thor's team-up with Rocket and Groot is so brilliant that I now want a whole franchise of them together. There's a little less focus on Captain America and Black Panther's crews, but they still have some lovely moments together.
But when it's time to get serious, Infinity War doesn't play around. As one might expect, this is the darkest MCU movie yet, and it's not even close. When I went to see it a second time (to collect my thoughts and emotions), a lot of the small children in the audience were crying by the end, and I don't really blame them. If you've spent the last 10 years getting to know these characters, watching them grow and change and get better…some of the stuff that happens in this movie is gonna hurt. Even though I fully expect everything to be happily resolved in Part 2, I still found a few scenes in this movie hard to watch after my marathon through the rest of the MCU.
And that leads me to one of the few complaints I have about the movie. All the female characters seem to get the short end of the stick when it comes to characterisation and screen time. Only two Marvel women have a significant impact on the plot, and it doesn't end well for either of them. One of those characters gets an especially raw deal that I don't think she deserved, and worse, it seems like one of the disasters in this movie that's least likely to be undone in the sequel. That rather upset me, especially after all the progress that had been made in Phase 3 on creating better female characters.
Also, although I think the movie did as much justice to its characters as it could without a 5-hour runtime, there were a few bits of backstory for our heroes that I felt were missing–particularly for the Guardians. We never find out exactly how long it's been in MCU time since their last appearance, but considering their first two movies took place within six months of each other, it's reasonable to assume it's been three years or more. Their relationships to each other seem to have changed in some subtle but important ways during that time, and because of certain things that happen in this movie, I wish we could have seen those relationships better developed onscreen. I also would have liked to know more about Thanos's henchmen, most of whom don't even get named in the movie.
I have a few other minor quibbles: Wakanda's warriors seem less powerful here than they did in Black Panther, Thanos's motivation made more sense in the comics, once in a while there's a CGI effect that doesn't quite look real, etc. But despite those few quibbles, I still found this movie to be an excellently-crafted, emotional epic that paid proper tribute to the best of the Marvel Universe while also doing things no other Marvel movie has done. Despite how overstuffed it is, I came away loving certain characters–Iron Man, Doctor Strange, Gamora, Scarlet Witch, etc.–even more than before. The action is incredible, and just about all the emotional beats hit me exactly the right way.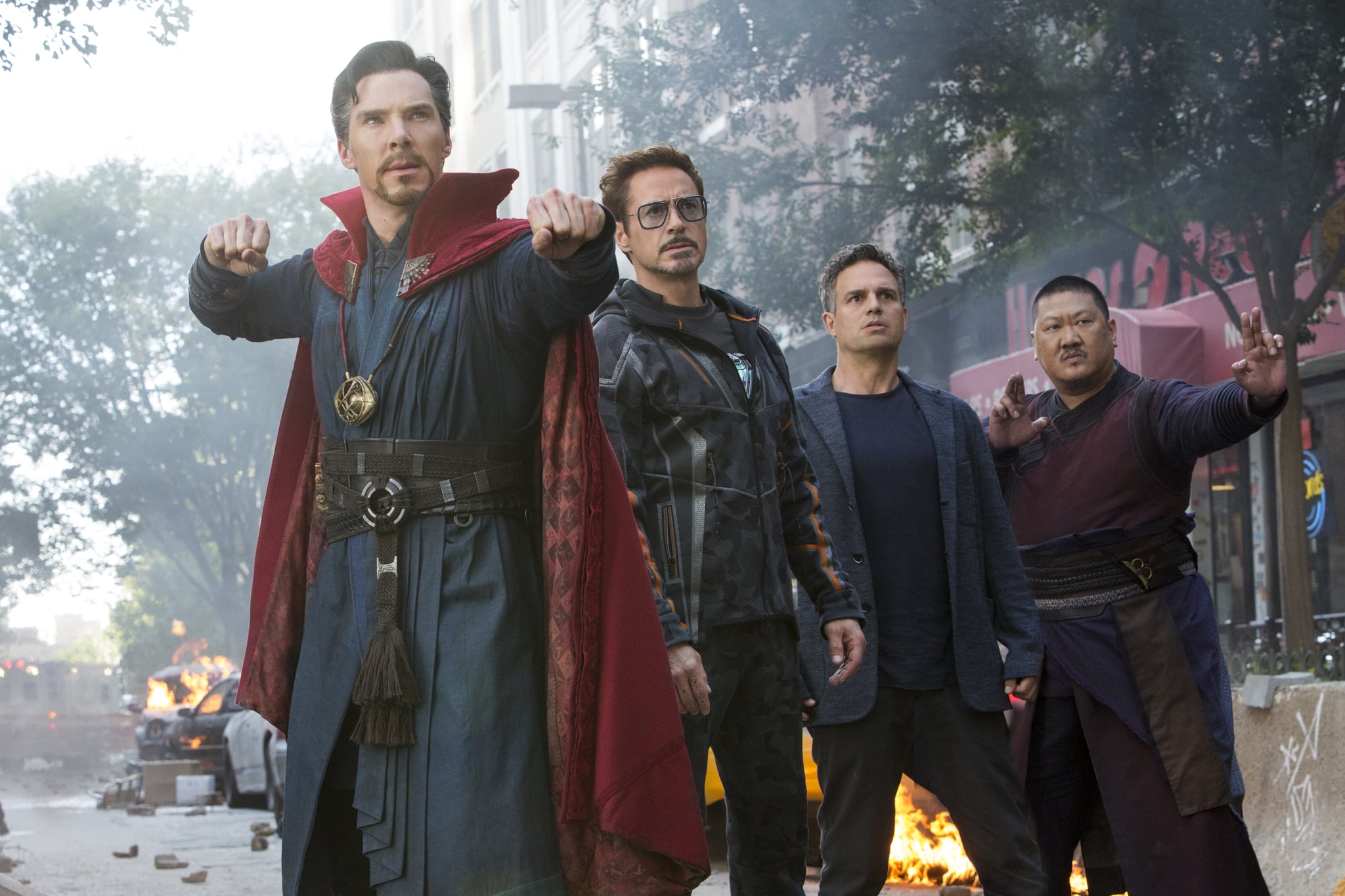 The Russos continue to be my favourite MCU directors (except for maybe Taika Waititi, who made the Thor we see in this movie possible), and I cannot wait to see what they do with the sequel.  In the meantime, I'm glad I have Ant-Man and the Wasp to cheer me up after this emotional rollercoaster.
Grade: A for Avengers