Long before Groot, Vin Diesel played another heroic giant of few words. One word, in particular, has melted thousands of hearts and caused the shedding of many tears.
"Superman!"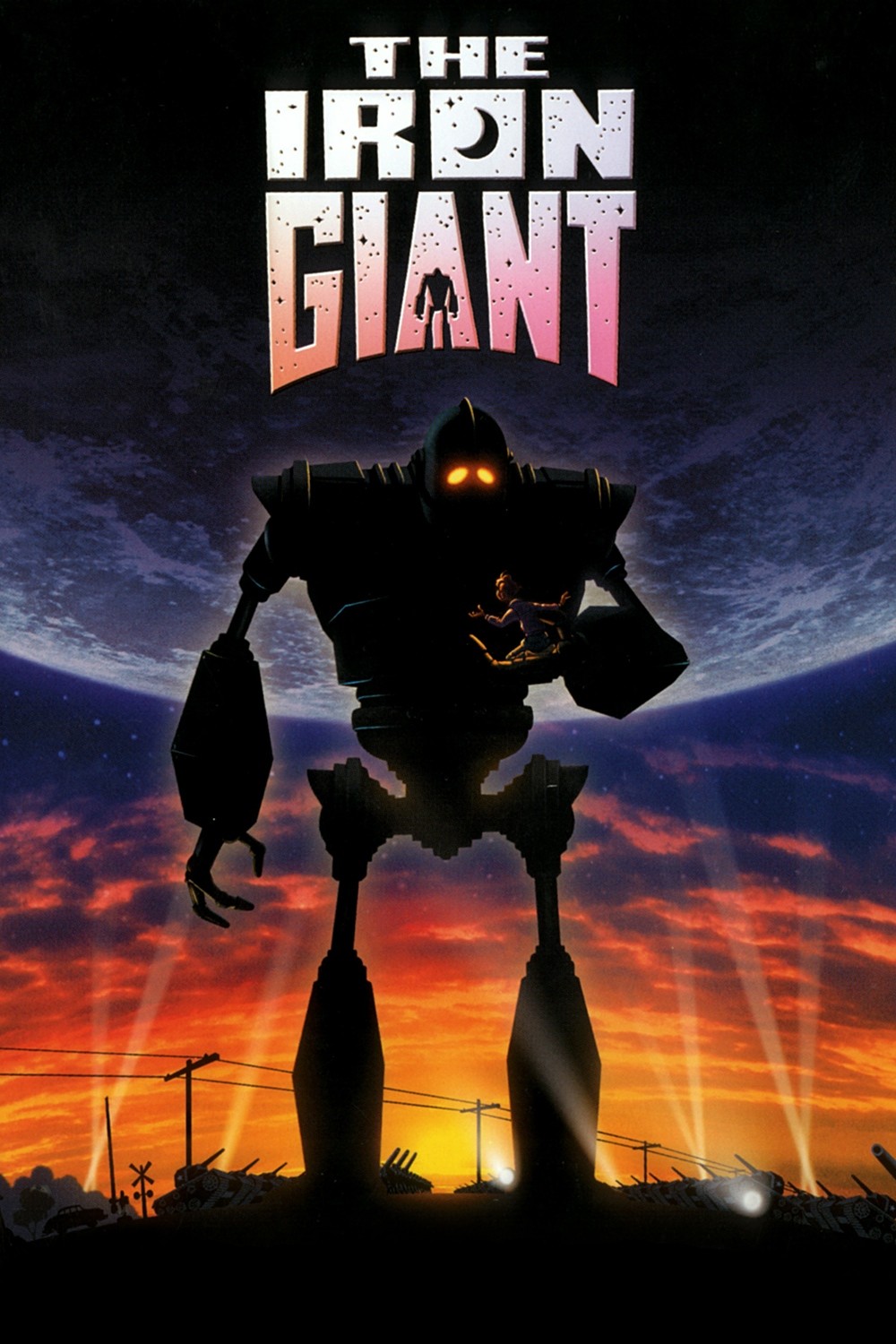 The Iron Giant
Director: Brad Bird
Writers: Brad Bird and Tim McCanlies
Starring: Vin Diesel, Eli Marienthal, Harry Connick, Jr.
Based (veeerrrry loosely) on the book "The Iron Man" by Ted Hughes
Released: 1999
Rated PG
This is a special movie. It didn't do well in theatres when it first came out, but nowadays you'd be hard pressed to find anyone willing to say they dislike it. It's my favourite 2-D cartoon and possibly my favourite animated movie, period. And like most animated movies I love, it's all about superheroes.
But just in case you have not had the pleasure of seeing this movie, here's the plot: Hogarth Hughes is a 9-year-old boy who lives with his single mother in the town of Rockwell, Maine, circa 1957. One night, he goes outside to investigate a malfunctioning TV antenna and discovers a 50-foot robot munching on a nearby power plant. The robot gets a nasty shock from the electricity, and even though Hogarth is scared out of his mind, he manages to shut off the power in time to save the Giant. Next thing you know, he has a new friend. The robot has crash-landed on Earth and doesn't remember anything about himself, where he came from, or why he's here. Hogarth starts teaching him things like how to talk, how to avoid squishing people, and most importantly, how to use his powers for good just like his favourite hero, Superman. He enlists the help of a junkyard owner named Dean to take care of the Giant, who only eats metal.  But it's difficult to hide a gigantic robot with the mind of a toddler, especially in the panicky climate of the '50s, and things only get worse when government agent Kent Mansley arrives to investigate some strange occurrences around Rockwell.
Man, where do I start with this movie? I guess the animation is a good place. It's beautiful. I've only come to appreciate it more as I've watched more cartoons, even recent ones, which often don't measure up despite all the technology available to animators now. The landscapes are so detailed, and the characters' expressions and movements are so full of life–even when said characters are made of metal. Some scenes look like an animated Norman Rockwell painting, which was probably intentional, given the name of the town.
The movie also does an excellent job of recreating the 1950s American setting. From the classic '50s diner where Hogarth's mom works to the hilariously awful instructional video his class watches on how to survive a nuclear attack, it's obvious the filmmakers did their research on the time period. Most importantly, the movie perfectly evokes the atmosphere of paranoia and xenophobia that existed during the Cold War. Characters talk about the recently-launched Sputnik with dread, worried that the Soviets might be watching them. Hogarth owns propaganda comics with villains like "The Red Menace" and "Atomo." But it's Kent who really embodies the Cold War attitude, being ready to assume the worst about the Giant even before he has proof  he exists. "All I know is, we didn't build it, and that's reason enough to blow it to kingdom come!" he yells at one point. And that paranoia makes him the perfect kind of villain for a story like this: a cowardly bully.
Of course, Hogarth and the audience don't know where the Giant came from either, or why he was built, and the movie remains pretty vague on that point. But Hogarth doesn't really care. This is a kid who thinks of wild animals as friends, much to his mom's chagrin, and idolises Superman, one of the most idealistic superheroes around. The only reason he needs to help out the Giant is that, in his present state, the robot is kind, innocent, and in need of a friend.
The first half of The Iron Giant is pretty light-hearted and funny. After the Giant makes his slightly menacing entrance, and Hogarth finds out he's really not so menacing, the story becomes about him having comical adventures with his new friend and trying to keep him hidden, while Kent bumbles around searching for a mysterious meteor and generally being ineffectual. There's a hilarious scene, in which the Giant's hand gets separated from the rest of him and starts wandering around Hogarth's house during dinner, that still makes me laugh every time I see it. And of course we're introduced to Dean McCoppin, who is just awesome.
But when I first watched the movie, there was a distinct point at which I realised I was watching something a little deeper than your typical funny children's cartoon. It's a scene about halfway through, in which Hogarth finds himself having to teach the Giant about death. After that, the movie takes on a much darker tone, but it's also the beginning of the Giant's struggle to make sense of his own existence. After all, as that very scene foreshadows, somebody made the Giant for a reason, and it likely wasn't a peaceful one. He has to figure out how to balance his questionable nature with his desire to do good and protect his friends.
And this is what I love most about The Iron Giant. Lots of kid's movies have morals they want to teach their young audience, which is a good thing. But so many of those morals boil down to something trite and easy, like "follow your heart." Not so with this movie (or any Brad Bird-directed flick, as Pixar fans can attest). Here, there are two primary messages, the most obvious being summed up in the quote, "You are who you choose to be." The Giant's character development is all about choosing to be a hero, even if that goes against his "programming." And while the quote is an oversimplification, I think it's great to show kids that people are defined by their actions rather than by their backgrounds, and that doing the right thing sometimes means going against one's natural inclinations.
By contrasting Hogarth and Kent's reactions to the Giant, and showing the consequences of each, the movie also promotes another message: xenophobia is bad, and fear leads to destruction, while compassion and kindness can prevent it. While the Giant's own choices determine his character in the end, it's Hogarth's friendship that sets him on the path to becoming a hero, and his love for Hogarth that helps him remain one. If Kent Mansley or a paranoid Rockwell resident had met the Giant first…let's just say the movie would have had a grimmer ending. But because Hogarth reacts to a strange alien monster with compassion and curiosity rather than fear, said alien ends up following his example. Again, I think this is a fantastic lesson to teach kids…and these days, it seems a lot of adults need to learn it as well. With fear of the unknown and the foreigner seemingly on the rise in many places, we could use more stories about showing kindness to strangers.
But of course, neither of those messages would come across very well if this movie wasn't expertly written, acted, and animated. Fortunately, it is. The script is funny when it tries to be, emotional when it needs to be, and profound without being preachy. All the voice actors do a fantastic job, especially Vin Diesel, who only says a few dozen words as the Giant, but makes every one of them count. The music is also gorgeous, even when it's not incorporating catchy pop songs from the '50s.
I suppose, if you really wanted to, you could find things to complain about in this movie. There are probably some historical inaccuracies (though I think it would take a professional historian to discover them), and the plot does closely resemble E.T. (except that it's based on a book that was written before E.T., and it's also better than E.T.). Personally, though, I think The Iron Giant is about as close to perfect as any movie can get. Why? Well, in addition to all the reasons listed above, I've seen it at least a dozen times now, and I still find myself getting misty-eyed at the end. This is the kind of movie that makes you feel better about life, and people, and the world in general after you've watched it. And not because it sugarcoats real-life problems or provides an escapist fantasy, but because it shows good triumphing over real evil in a spectacular way.
I also love it as a superhero fan, because it offers a perfect example of what I think the ideal superhero should be: unfailingly kind, hopeful, and brave. And honestly, has any actual Superman movie had a "saving-the-world" scene as awesome as the climax of this one?
If you haven't seen The Iron Giant, do yourself a favour and go watch it. If you have kids, make them watch it. But if you're a single adult, like me, there is no shame in watching this particular cartoon on your own.