Don't look directly at the sun, kids. It's bad for you.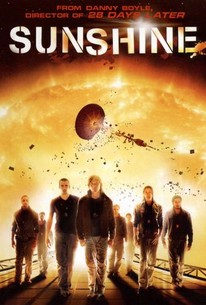 Sunshine
Director: Danny Boyle
Writer: Alex Garland
Starring: Cillian Murphy, Rose Byrne, Chris Evans, Michelle Yeoh, etc.
Music By: John Murphy
Released: 2007
Rated R
Apparently, 50 years after this movie was made, the Sun is going to stop working, and the Earth is going to get cold, threatening the existence of the human race. Our story is about a group of eight astronauts aboard the Icarus 2 (the previous Icarus mission having failed, probably due to its terrible name), who are on their way to fix the Sun by throwing a big bomb at it. (Shockingly, this film was made by Brits, not Americans.) Along the way, something goes wrong with the mission, forcing the astronauts to make contact with the previous Icarus ship, where the crew may or may not still be alive.
This movie is more than 10 years old, was made by an Academy Award-winning director and stars some very big Hollywood names (although in fairness, it was made when Chris Evans' most famous superhero role was still the Human Torch), yet it took me until late last year to find out it existed. I'm always game for trying a new sci-fi movie I know nothing about, and I'm going through Captain America withdrawals, so I decided to pick it up pretty much based on those facts alone.
And…it turned out to be a bit of an odd pick. Based on the plot description, it seems like it should have been a goofy B-movie, and it certainly isn't. Based on its cinematography and writing, it seems like it should be a philosophical sci-fi epic, but it never quite gets there, either. It's some kind of weird hybrid of the two. A…B-epic, perhaps?
Let's start with the setting. I'm no astrophysicist, but I'm fairly certain most of the "science" presented by this movie is nonsense. Just for starters, NASA scientists predict the Sun won't start "dying" for at least a couple billion years, barring some very unlikely accidents, and when it does die, it's far more likely to expand, heating up the Earth, than to cool and cause another ice age. And that's not even getting into some of the ridiculous ways space behaves in this movie.
But Sunshine does try very hard to create a scenario that makes sense, if not according to real-world physics, then at least according to its own internal logic. Much of the first act is dedicated to showing the audience exactly how everything works on the Icarus 2: how its massive radiation shield has to be aligned perfectly toward the Sun to avoid catastrophic damage, how it gets oxygen from a garden fed by recycled water, how the ship's advanced computer has to be immersed in coolant in order to function, etc. All these things become important later on, and the set-up pays off because the way they work remains consistent throughout the movie. Everything is presented in a way that seems plausible, even if it wouldn't work in real life.
Another reason the lack of actual science in this movie didn't bother me too much is that it has a pretty surreal feeling throughout, which I'm pretty sure is intentional. There are short dream sequences; a scene that keeps getting interrupted by quick, almost subliminal shots of dead characters; and one character who always appears blurred and distorted on the screen. Then the third act happens, and things get really wonky. But I think the sound is more to blame for that surreal feeling than the visuals.
The soundtrack is probably my favourite thing about the movie. I had already heard some of it before–the climactic track "Adagio in D Minor" has been recycled in numerous trailers, and even some other official soundtracks. But in the movie itself, the music blends with the noises of the ship and of space (yes, this movie occasionally has noise in space, just go with it), and it creates a very creepy, moody atmosphere that perfectly fits the story's tone.
That atmosphere leads to a constant feeling of claustrophobic tension. Almost the entire movie takes place inside a stark, badly-lit spaceship with little room to move…and when we join up with our crew, they've already been together inside it for months. It's no wonder tensions are already running high at the beginning, especially since the crew has just passed outside the range of communication with Earth and the resident psychiatrist has an unhealthy obsession with the Sun.
Like any self-respecting sci-fi drama about a small crew trapped and alone in space, this one features quite a few characters who go a little nuts. But characters in this movie tend to go nuts only in a way that involves unsafe sungazing. When it's not taking place inside a drab spaceship, the film is full of beautiful shots of the Sun and extreme close-ups of human eyes looking at the Sun. Our nearest star is treated almost like a living thing in this movie: a siren beckoning some characters to their doom, while promising some sort of enlightenment to others.
And throughout the movie, I had the feeling the storytellers were trying to say something through that Sun-obsession theme. At one point, a character who's gone insane starts babbling about how the Sun is God, and He wants humanity to end…but it doesn't really go beyond that, and the insane character is a little hard to take seriously anyway. The ending, while somewhat ambiguous, seems to suggest there really is something enlightening or spiritual about coming face-to-face with the Sun, but it just isn't expanded upon as much as I'd hoped. Unless I'm just too stupid to get it…which is always a possibility.
A theme that's better developed in this movie is the idea of weighing one person's life against many. From the beginning, all the characters are well aware of two things: the extreme danger of their mission, and the fact that it is the "last, best hope" for mankind. From the moment things start to go wrong, the movie is basically a long series of trolley problems, forcing the characters to make increasingly drastic choices to ensure their mission doesn't fail. The right choice always seems pretty clear, at least to the audience: after all, what is one person's life compared to all the billions of people who live on Earth, and will live there in the future? But despite knowing the risks beforehand, some characters don't react well to the idea of dying or letting a crewmate die, and at least one goes way too far in the other direction. (After all, what are billions of tiny human-sized lives compared to the Sun and the vastness of space?)
Against all odds, this movie actually did ease my Captain America withdrawals, because Chris Evans plays the most competent character in it. Mace, the computer engineer, has some anger management issues, but he's the only member of the cast who consistently puts the safety of the human race above his personal feelings (including his regard for his own life or the lives of his crewmates). He always does the most pragmatic, logical thing in every situation, which is rather refreshing to see in a movie like this. I wouldn't be too surprised if this role helped Evans land his spot in the MCU. Of course Cillian Murphy's character, the physicist Capa, is no slouch in the hero department either, even if he causes as many problems as he fixes. Overall, I enjoyed this movie quite a bit–mainly thanks to the music, the creative visuals, and the acting, which is great across the board. But I constantly felt like it was trying to say something important, and I don't think it ever quite got the words out. It feels like a movie that could have been right up there with the greatest sci-fi classics of all time…if a few story elements were tweaked and the filmmakers thought a little harder about what they wanted to say. As it is, it's an exciting flick with some very memorable scenes, but not necessarily a must-see.
Unless you have a powerful need to see Scarecrow fighting Captain America. Then you don't want to miss it.
Grade: B